I've run three crochet-alongs (CALs) this year: Spring, Summer and Fall. I've been a little disappointed with the outcome: approx 3-4 times as many people used the CAL discount code than actually submitted completed projects to the CAL roundup. Some people contacted me to apologise that they didn't manage to complete their projects in time, and I can I understand that – life sometimes gets in the way, despite our best intentions – but these numbers are just too high for that to apply to everyone, and it makes me really sad that some people must have been abusing my generosity by using my 20% discount although they had no intention of participating in the CAL 🙁
I'd like to finish the year on a high note, and actually reward the people who do want to participate in the CALs without losing money to the opportunists who just want a cheap pattern, so we're going to do it differently this time around, and have a crochetalong contest!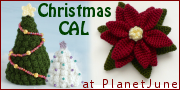 The PlanetJune Christmas CAL & Contest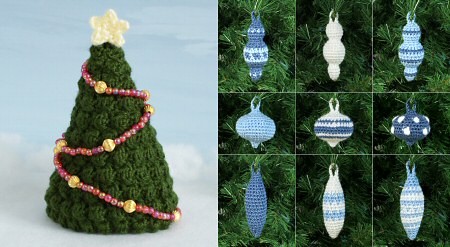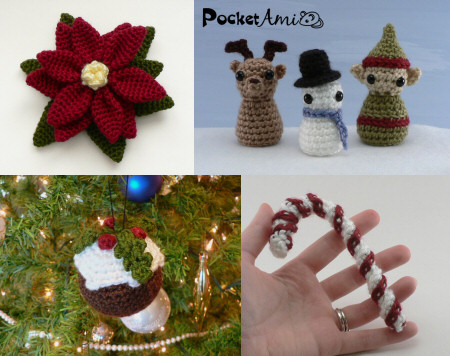 Top row: Christmas Trees, Christmas Baubles
Middle row: Poinsettia, PocketAmi Christmas
Bottom row: Christmas Pudding, Candy Cane
Here's how it works:
Make one of my Christmas-themed patterns. There's no CAL discount this time, but there are plenty of Donationware patterns in my Christmas line-up, so you can pay whatever you can afford for those, or even just use them for free if cashflow is a bit tight at this time of year.
Show us what you've made! Post it to your blog, or to ravelry, flickr, facebook, or anywhere else you like to show your work.
Enter the Christmas CAL contest. Read this part carefully: to enter the contest, send an email to CAL@planetjune.com with a link to where you've posted about your project. If you don't have anywhere that you post to online, you can still enter: just email a photo of your completed project to me.
Bonus entries. Make more than one of my patterns and you'll get an entry for each one!
The prizes:
First prize: a $10 gift certificate to spend on anything in the PlanetJune store
Second prize: a free pattern of your choice from the PlanetJune store
Runner-up prizes: I'll send a discount code to all participants, to use against their next order from the PlanetJune store.
The rules:
The PlanetJune Christmas CAL (& contest) will run from today until December 24th 2010.
Enter by crocheting any of my Christmas-themed patterns, as shown above.
Post your completed projects online and email the link to CAL@planetjune.com, or email a photo of the completed project to CAL@planetjune.com.
If you complete several patterns, send me one email per project so you'll get more entries!
If you've already started your Christmas projects this year, you may enter them, but please keep to the spirit of the CAL and only submit projects you've made for this holiday season.
First and second prize winners will be drawn randomly from all eligible entries; all participants will receive the runner-up prize.
All photos will be posted here on Christmas Day in a grand CAL roundup!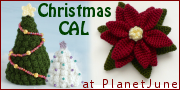 Grab this button for your blog!
I hope this will be fun and encourage lots of participation! This is a new CAL model for me, so please let me know if anything is confusing. I'll answer any questions in the comments or by updating this post.
Sounds good? Get crocheting!