You may be getting a déjà vu feeling right now – don't I have a baby sea turtle pattern just like this already?!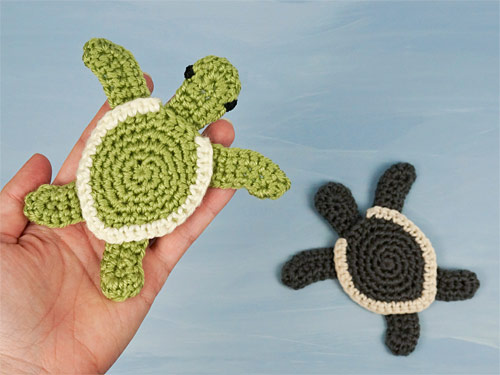 Well, no: there's something completely new about this pattern! Although from the top it looks almost identical to the turtle from my incredibly popular Baby Sea Turtle Collection: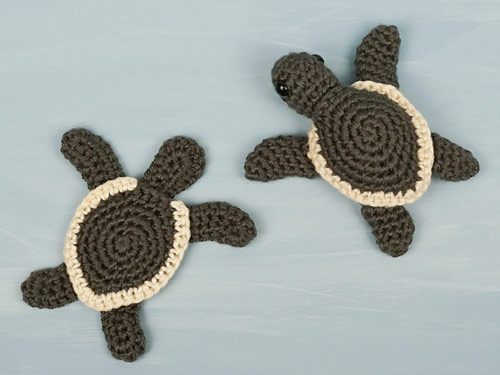 Spot the difference?
…from the side, it's as flat as a pancake!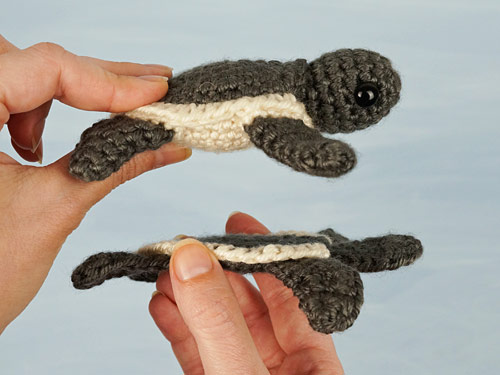 From top: 3D amigurumi turtle; 2D flat appliqué turtle
This is my brand new Baby Sea Turtle Appliqué crochet pattern. Crocheted appliqués are small flat crocheted pieces that make lovely embellishments – and in this case, a perfect addition to a beach or ocean-themed blanket, like my Turtle Beach blanket!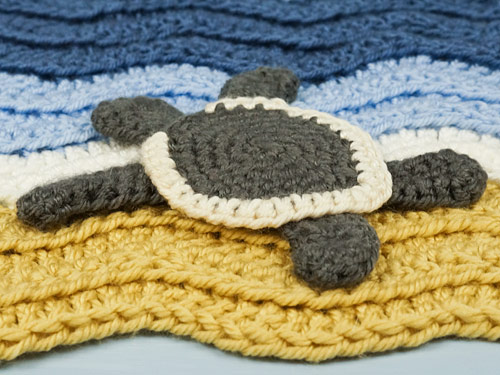 About the Design
I designed this pattern to closely replicate my original Baby Sea Turtle in size, shape and appearance, so you can still keep that iconic Turtle Beach look with much less work.
The pattern is faster to crochet than an amigurumi turtle and, with only two pieces, needs almost no sewing or finishing. You can stitch it securely to a blanket (or anything else), and the optional embroidered eyes make it child-friendly and easy to launder.
Body: The head and flippers are all crocheted as one piece around a body that's hidden beneath the shell. Not only does this minimise the finishing work, but the flippers naturally form at the perfect angles and in just the right positions with no effort or decision-making on your part (beyond following the pattern!)
Shell: If you've ever tried to flatten the original shell, you'll know that, because it's designed to be domed, it flattens into a strange overly-wide shape that doesn't look right at all! I've designed a new shell that keeps the same style and finished shape from the top as the stuffed baby turtle, but is completely flat.
Eyes: I wasn't sure about eyes – the appliqué turtle looks lovely without eyes (and, as we're looking at the turtle from above, the eyes wouldn't be visible in real life anyway…) so I decided to offer both options in the pattern. I think it looks cuter with eyes and more sophisticated without. My grey sample turtle has no (visible) eyes and the green turtle has my embroidered eyes – you can choose to add them or not; your turtle will look good either way!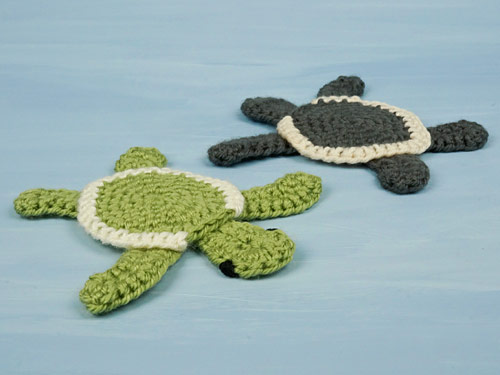 About the Pattern
This pattern includes full written instructions for the turtle, plus round-by-round charted stitch diagrams for the rounds that form the head and flippers, in both right- and left-handed versions.
It also includes:
Simple assembly instructions for attaching the shell (it comes together so nicely, you may actually enjoy this step for once!)
A complete step-by-step tutorial for embroidering the eyes securely with no visible knots or tails.
Tips for stitching the turtles neatly to a crocheted blanket.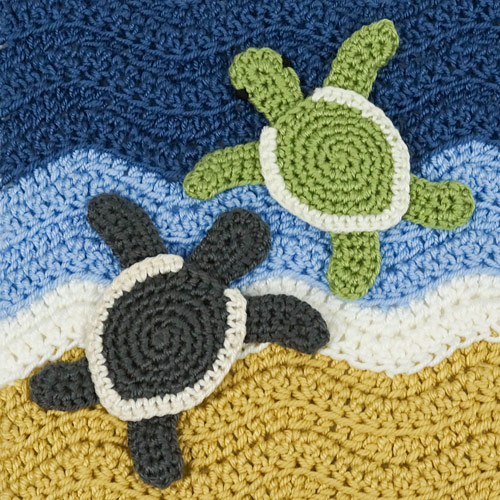 Baby Sea Turtle Multipack discount
Which baby sea turtle pattern should you buy? Why not both?! I've made that easy for you by bundling the two patterns together as a Baby Sea Turtle Multipack.
If you're making a turtle blanket, you could attach some flat turtle appliques and give an amigurumi baby turtle set in the same colours as a matching companion gift.
Discount for Baby Sea Turtle Collection owners
If you've already bought the Baby Sea Turtle Collection and would like this new turtle pattern too, you can't take advantage of the multipack discount, but I have you covered! If you're buying the new pattern before the end of the month (August 2020), I'll honour that multipack discount for you – just pick the option below that works best for you:
Email me (june@planetjune.com) with details of your Baby Sea Turtle Collection order. Once I've verified your previous order I'll email you back with a special discount code for the new pattern, and you can place your order.
Place your order for the new pattern at the standard price and include the details of your Baby Sea Turtle Collection order in the message to me (or email me by end of Aug with the details of both your orders). Once I've verified your previous order I'll email you with a PlanetJune Gift Certificate to the value of the discount, which you can use against a future order.
With either option, all I need is enough information to be able to verify your previous order, e.g. your order number or date of order.
Pattern Links
You can find all my sea turtle and turtle beach blanket-related patterns at www.planetjune.com/turtle – browse at your leisure!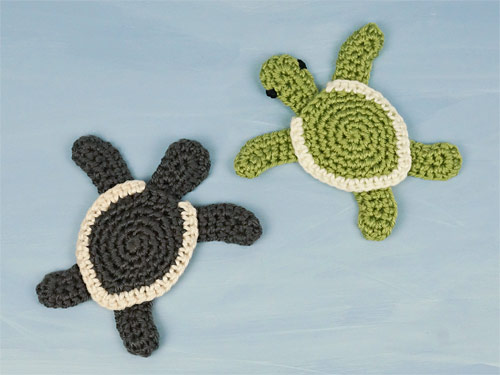 As you may have noticed, I'm a bit of a sea turtle fan, and I already have a few ideas for how I'm going to use this appliqué to make or customize turtle-themed things for myself. (More on that later!)
I hope you'll enjoy this pattern too, and I look forward to seeing what you'll do with it – don't forget to tag me @planetjune on all the socials so I can see your projects 🙂
Happy flat turtle-making!