Crochet Video Tutorials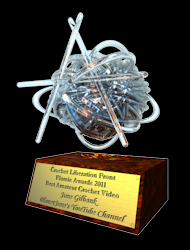 Here's a handy list of all my crochet video tutorials in one place. Each tutorial comes in 2 versions, so both right- and left-handers can learn the techniques without difficulties.
Award-winning video tutorials: I received the Best Crochet Video (Amateur) award in the 2011 Flamie Awards.
I'll be adding more tutorials as I have time to make them (I value quality over quantity, every time!). If you think of something that's not on this page that you'd like to see, please let me know.
For more crochet help, see my Amigurumi Help page for step by step photo tutorials.

Crocheted i-cord


Crochet Loop Stitch


Amigurumi Seamless Join


Reverse Single Crochet


Amigurumi Faces: Secure Stitching


Magic Ring for Crochet


Invisible Decrease for Amigurumi


Perfect Stripes for Amigurumi


Ultimate Finish for Amigurumi
Crochet Quickies (extra-short demos for very basic or brief techniques)

Yarn Over


Changing Colour


Front, Back, Both Loops
Thank you so much for taking the time to leave a comment here! I read and appreciate every comment. I only respond to questions here on the blog, so please return to this page to see my reply, or check the box below to subscribe to new comments by email.
Please note that I can only answer questions related to PlanetJune patterns and tutorials (see details), and I can only respond to questions or comments written in English. Thank you :) - June