Link easily to this tutorial in
your patterns
:
www.planetjune.com/icord
Have you ever tried to crochet a really tiny tube or cylinder? I find that single crocheting in a ring with 5 stitches is challenging enough; let alone trying to make a 4-sc cylinder, or, almost impossibly, a 3-sc tube.
Knitters are lucky; they have a great way to make a very fine tube – it's called an i-cord and it's really easy to knit up on dpns (if you knit). But I have great news for you: you can also make i-cord using your crochet hook!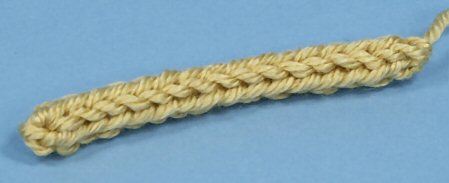 It's very simple once you get the hang of it, and it's an easy way to make fine tubes, as long as you like. You can use i-cord in amigurumi, as trim, or even to make bag handles. It's versatile and works up quickly.
Note: you can also make a wider i-cord tube, by starting with more chains and dropping all but one loops off the hook. I'd recommend you don't go too wide though, as it's easier to accidentally pull out one of the dropped loops when you have more of them in play. I'd recommend you stick with a 3-ch or 4-ch crocheted i-cord. For anything wider than that, make a sc spiral (or learn to knit it on double pointed needles).
The easiest way to explain it is to show you, so I've made a video showing how to crochet an i-cord. And because I'm nice like that, I've done right-handed and left-handed versions.
Crochet an i-cord (right-handed)
Crochet an i-cord (left-handed)
See – it's easy!
If you'd like to practice crocheting i-cord, I'll have a new pattern that uses this technique available in a few days…
---
UPDATE: By request, here are my written instructions to crochet i-cord:

Crochet an i-cord (text instructions)
Ch 3. Insert hook into 2nd ch from hook, yarn over and draw up a loop, insert hook into next ch, yarn over and draw up a loop (3 loops on hook).
Row 1: Drop 2 loops from hook. Hold onto the dropped loops with your non-hook hand so they don't come undone. Yarn over and draw through remaining loop on hook. Insert hook into first dropped loop, yarn over and draw through (2 loops on hook). Insert hook into second dropped loop, yarn over and draw through (3 loops on hook).
Repeat Row 1 for desired length of i-cord. Cut yarn, leaving a long yarn end. Draw end through all 3 loops on hook and pull tight to fasten off.
That's it!