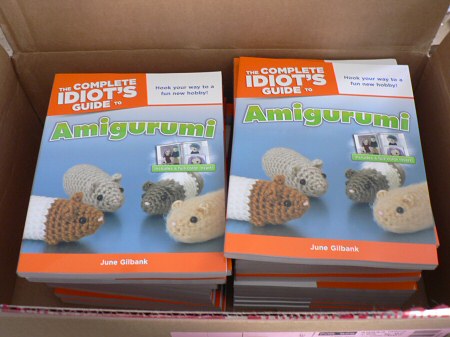 Box of books, fresh from the publisher
I'm so happy with the response my book has got so far! Amazon shipped a lot of the pre-orders early which meant that some people actually got their copies on the release day, so I've had four 5 star reviews on amazon already, and many more comments and emails from my readers/customers/friends, who I think must be some of the nicest people in the world. I feel very lucky to have so much support – thank you all 🙂
Speaking of Amazon reviews, if you've received your copy of The Complete Idiot's Guide to Amigurumi, would you do me a huge favour and review it at amazon.com? You'd be doing me a huge favour – I'm hoping the reviews will help me to reach people who have never heard of me before, which would be fantastic for my business, as well as help with book sales. Thank you!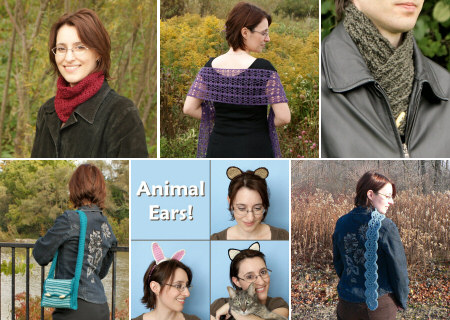 It's nice to see the first reviews starting to trickle in for my PlanetJune Accessories patterns too! If you've bought any of them (or any of my other patterns), please do leave a review in my shop, to help other people make an informed purchase decision. And each review gives you an entry into my monthly contest to win a free PlanetJune pattern of your choice!
Speaking of which, I have yet to draw the the September 'Review and Win' contest winner – oops! I'll fix that now: the winner is… Amanda M, with her review of my PocketAmi Christmas pattern:
These patterns are great and fast work-ups. I'm making TONS of them to put on Christmas presents this year, so I am more than familiar with this set at this point. Difficulty from easiest to hardest is snowman, reindeer, elf, but I find that they're all amazing to read and easy to work. You'll love the finished product!
Congratulations, Amanda, I'll email you to find out which pattern you'd like as your prize!
Phew, what a week! Actually, "what a month!" would be more accurate. Between working all hours to get my first PlanetJune Accessories collection launched before the book came out, shooting and editing the promo video for the book, and living through the craziness of the book launch, I'm absolutely exhausted! I really wanted to start work on a new amigurumi design this week, but the creative side of my brain just wasn't co-operating.
The good news is, my creative mojo came back last night – I have a new design underway and I think it's going to be a good one…