I can hardly believe I'm finally getting to write these words: my crochet book, The Complete Idiot's Guide to Amigurumi, is out today!* It's been a very long process that's taken me to this point, and part of me still doesn't believe it's real, although I do have this proof: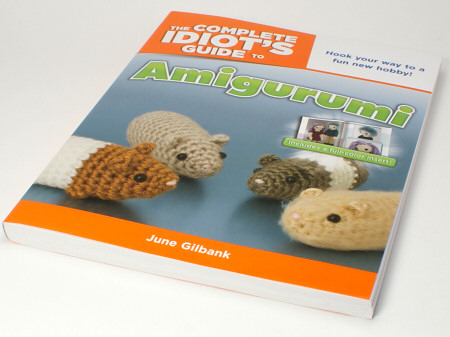 Yay! Look what I made – it's really real!
I'll be sharing more information about the book over the next few days/weeks, but, as there seems to be a lag somewhere between the publisher and Amazon's website (their current description is about a year out of date!), I'll share the correct 'blurb' copy that should be there:
Amigurumi (pronounced ah-mee-goo-roo-mee) is Japanese for "crochet (or knit) stuffed toy." Although the concept originated in Japan, the amigurumi craze is taking over the world in waves of crocheted cuteness! From adorable fuzzy critters, to sweet-looking fruits and vegetables, to quirky comic book and cartoon characters – if you can imagine it, you can crochet it!

Whether you're an experienced crocheter or have never taken hook to yarn, The Complete Idiot's Guide to Amigurumi shows you everything you need to know to hook your own delightful amigurumi. This helpful guide includes:

A primer on the yarn, hooks, and stitches best for amigurumi, plus fun embellishments you can use to personalize your ami.
Easy-to-follow tutorials for getting started, increasing and decreasing, working in the round, changing colors, and more.
Expert advice on adding eyes, hair, jointed limbs, clothes, and other fun accessories to your ami.
Tips for following an amigurumi pattern, plus four start-to-finish patterns to give you a head-start on designing your own.
A full-color insert with inspirational photos of the finished ami patterns featured in the book – and more!
I've spent the past few days making a fun (and deceptively time-consuming to produce!) little book trailer for your viewing pleasure:
Click through to see a larger version of my book trailer at YouTube 🙂
All the amigurumi you see in the video are made from the patterns in the book. These are exclusive patterns that I created for the book – you won't find them anywhere else.
All along, my plan for this book was to create the definitive reference guide to amigurumi techniques, not just another pattern book, and I hope that's what I've achieved. I've put a lot into this book, and I hope that you'll get a lot out of it, whatever your skill level or experience with amigurumi. It's the only book of its kind, and I really hope you'll enjoy it – and please let me know if you do!
If you haven't ordered a copy yet, they should be in bookstores any day now, if not already, or you can order online from such fine retailers as Amazon.com, Barnes & Noble, or Amazon.ca.
Yay!
* UK folks, looks like you'll have to import a copy or wait till December to get your hands on a copy 🙁
I expect the delay is while they translate it (back) into British English and into UK crochet terms – just guessing…