Link easily to this tutorial in
your patterns
:
www.planetjune.com/loopstitch
I'm so glad people liked my crocheted i-cord video tutorial! Putting my voice up on YouTube for anyone to listen to was a bit (okay, a lot) out of my comfort zone, but I'm starting to get used to it… In time, I'd like to make a whole crochet tutorial video library (and if you have requests for video tutorials you'd like to see, please let me know and I'll add them to my list, although I can't promise exactly when I'll have time to make them – nobody's paying me to make them!)
Today I have another little crochet video tutorial for you. Loop stitch (aka fur stitch) is a decorative stitch similar to single crochet but with an added long loop of yarn formed on the back of the work. You can make the loops as long as you'd like, depending on your application – just wrap the yarn around something to create each loop so that all the loops you form are consistent in size. (I use my finger in my video tutorial, but you could use a wider piece of cardboard to form longer loops.)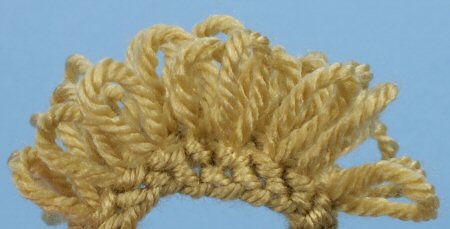 I've seen at least 4 methods for creating loop stitch; my demo shows the method I find most effective, as, unlike the other methods I've seen and tried:
It doesn't distort the size of the 'single crochet' part of the stitch
It locks the loop firmly into place
The loops formed stand up nicely away from the work
Once you've finished crocheting with loop stitch, you can leave the loops as is for a curly, furry effect, or snip through the top of each loop to create straight strands of yarn sticking out from your work. It's not a subtle look, but, in the right pattern, can be used to great effect!
And now to the video tutorial (in right- and left-handed versions, of course):
Crochet loop stitch (right-handed)
Click to watch this video on YouTube.
Crochet loop stitch (left-handed)
Click to watch this video on YouTube.
Note: as the loops are formed on the back of the stitches, you can't use it while crocheting amigurumi unless you keep any pieces using loop stitches turned 'inside out' (see my tutorial Which is the 'Right' Side?).
You can put this tutorial (as well as my previous crocheted i-cord video tutorial) into practice with my new pattern, coming very soon…
---
Do you find my tutorials helpful? If so, please consider making a contribution towards my time so I can continue to create clear and concise tutorials for you:
Thank you so much for your support! Now click below for loads more crochet video and photo tutorials (and do let me know what else you'd like me to cover in future tutorials…)