After winning the 2011 Flamie Award for Best Crochet Video (Amateur), I feel a little pressure to make my next videos even better, to live up to that honour, especially as I only started the channel last year and have very few videos as yet. So, from now on, my crochet tutorial videos will all be in HD quality, and I hope you'll be able to see my demonstrations even more clearly. My first HD video is below; I hope you'll leave me a comment if you liked it!
Amigurumi Seamless Join
Stitching the pieces of an amigurumi together has always been my least favourite part of making amigurumi, as it's so time-consuming – you have to be extremely neat and careful to stop your stitches from showing and spoiling the look of the ami. That irk led me to develop and refine this new method that will easily create a practically seamless join between your pieces.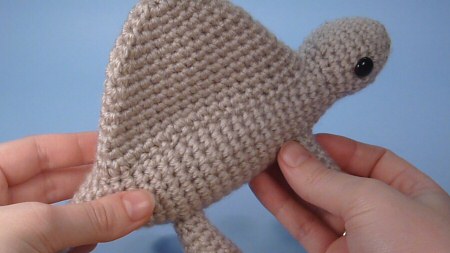 My Amigurumi Seamless Join technique allows you to create an almost invisible join in amigurumi when you stitch an open-ended piece to a closed piece. This is the type of join you'll use for almost all amigurumi joining, for example: joining a muzzle and ears to a head; or joining a head, legs, and a tail to a body. (The only time you can't use this method is when a pattern calls for you to join two open pieces together; in that case, whipstitching makes the best join.)
I hope you'll watch the video and then give my Seamless Join method a try on your next amigurumi: I guarantee that your joins will look smoother and neater, with much less time and effort on your part.
Amigurumi Seamless Join (right-handed)
Click to watch this video on YouTube.
Amigurumi Seamless Join (left-handed)
Click to watch this video on YouTube.
Note: The videos may look a little small embedded in the blog: if so, you can fullscreen them or click through to YouTube to watch them full-sized 🙂
If you enjoy my crochet tutorial videos, please help to spread the word about them, and/or subscribe to the PlanetJune YouTube channel.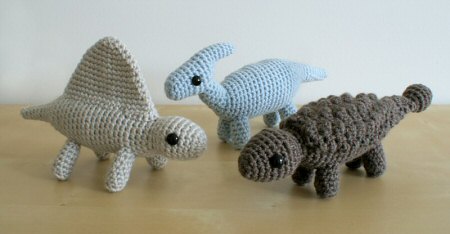 And, in case you missed my announcement last week, the crochet pattern for the Dimetrodon dino featured in this video is now available in my shop, both individually, and as part of my new pattern set: Dinosaurs Set 3.
---
Do you find my tutorials helpful? If so, please consider making a contribution towards my time so I can continue to create clear and concise tutorials for you:
Thank you so much for your support! Now click below for loads more crochet video and photo tutorials (and do let me know what else you'd like me to cover in future tutorials…)