Every month, I draw a winner from all the reviews received in my shop that month, to receive a free pattern of their choice. I thought the contest was worth a post of its own this month, as the number of new reviews has been dropping off lately. I only had 5 reviews in June, and while that means my reviewers had excellent odds of winning, I'd really like to see more people adding their reviews.
The June 'Review and Win' contest winner is Heather L, with her review of my Stegosaurus pattern: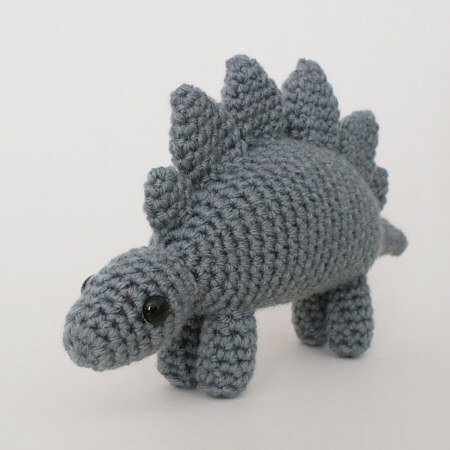 This is a super cute little dino. Don't let all the pieces concern you. The pattern is well written, and finishing instructions make it a snap to put together. I've made it twice so far, and I expect I will be making more.
Congratulations, Heather – I'll email you to find out which pattern you'd like as your prize!
I hope you'll all visit my shop and add reviews for any of my patterns that you've enjoyed, and continue to do so as and when you make more of my designs. Reviews are really useful to help other customers make an informed decision as to whether to buy my patterns.
Adding reviews is a great way to support my business without any cost to yourself except a couple of minutes of your time. And, of course, you may win a free pattern too 😉
Thanks so much!