I'm very excited to finally be able to publish what will (probably) be my final set of Dinosaur crochet patterns! I crocheted them before I left Canada, but problems with editing on my netbook meant that I couldn't do the patterns justice, so I made the frustrating decition to wait for my stuff to arrive so I could publish them to my usual standard with my desktop PC.
With each new set it gets harder to maintain the aesthetic of the previous patterns while coming up with totally new designs, but I think I've risen to that challenge – I've developed new shaping techniques for each of these dinos, that I haven't used in any patterns before, to give them distinctive, unique shapes, but they still use the same yarn (Vanna's Choice), eyes, and overall size as the previous dinos, so it's pretty clear that they inhabit the same prehistoric amigurumi universe…
First we had Dinosaurs Set 1 (L-R: Brachiosaurus, Stegosaurus, Triceratops):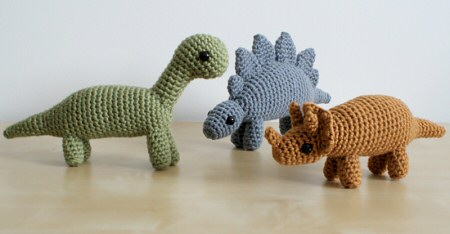 Then Dinosaurs Set 2 (L-R: Pteranodon, Plesiosaurus, Tyrannosaurus Rex):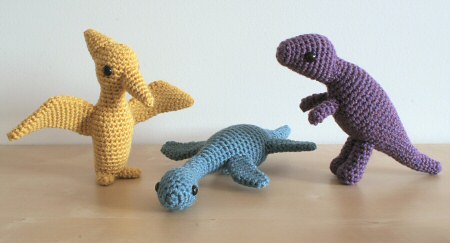 And now, let me introduce you to Dinosaurs Set 3 (L-R: Dimetrodon, Parasaurolophus, Ankylosaurus):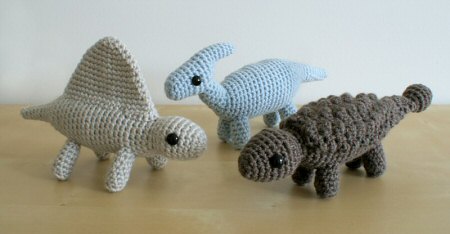 Click to see them larger!
Meet The Dinosaurs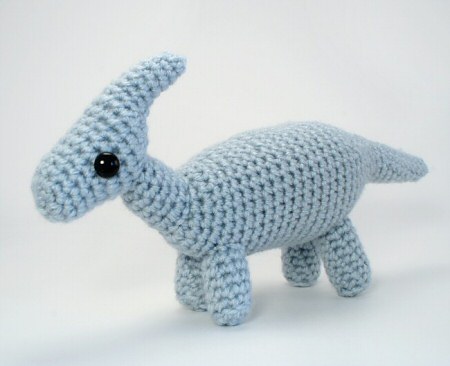 Parasaurolophus was a duck-billed dinosaur with a distinctive long crest on the back of his head. He was a 40 ft long herbivore and lived in the Cretaceous period. I think that Parasaurolophus may be my favourite dinosaur – I love that head shape!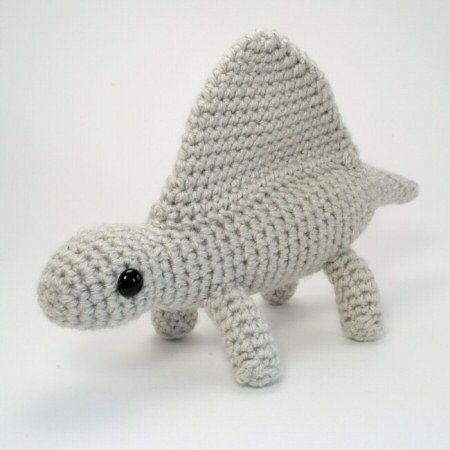 Dimetrodon was a small, sail-backed carnivore with legs that sprawled out to the sides. He was only about 13 ft long, but was a top predator in his time (the Permian period) – and that huge spiny sail must have helped with scaring away potential threats! For the sake of scientific accuracy, I should mention here that, just like Plesiosaurs and Pterosaurs, Dimetrodon also wasn't technically a dinosaur. In Dimetrodon's case, he actually lived before the time of the true dinosaurs, and he's properly called a pelycosaur. And that's the end of today's prehistory lesson 🙂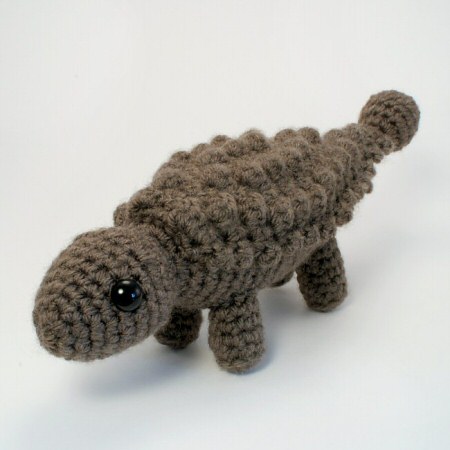 Ankylosaurus was probably the best-protected dinosaur ever to have lived: he had a heavily armoured back, a row of spikes along each side, and a club-like tail. Despite this fearsome appearance, he was a herbivore. He was about 30 ft long and lived in the Cretaceous period. Definitely a fun one to design with all those textural features!
My dinosaurs are consistent best-sellers in my shop, and I hope I'll have continued the trend with this final set! As always, you can buy the three patterns individually in the shop, or enjoy the savings when you buy the complete Set 3.
Direct links to buy the patterns from my shop:
[Although I do intend this to be my final set of dino patterns, if I've missed your favourite and it doesn't look too similar to one of my existing designs, let me know the name(s) of the dino(s) and I'll keep a note of them. If this set is as popular as the other two and I receive requests for another 3 interesting-looking dinos, I'd consider creating a 4th set, but otherwise I'm content to leave it at this trio of trios.]