There are just 4 days remaining until the 2023 Temperature Snake CAL begins in earnest on January 1st – have you picked up the Temperature Snake crochet pattern yet? If not, now's the perfect time: you'll need a little time to plan your colours and buy your yarn!
Note: If you're reading this after January 1st, it's definitely not too late to join in: you can look up any temperatures you missed online, and it's easy to catch up on a couple of weeks of stripes in a single crochet session. Please do come and join the fun!

We've had lots of planning going on in both PlanetJune groups (on Ravelry and Discord) since I released Part 1 of the pattern a couple of weeks ago, and I thought I'd give you a taste of that today.
Although my pattern includes complete and specific instructions for making a snake that records the daily maximum temperature over 2023 using a palette of 10 colours (plus a bonus colour for the head and tail), it's great to see how some CAL participants are planning to truly customize their snakes too! We have colour palettes planned that range from 6 colours to over 20 – just look at these stunning combos: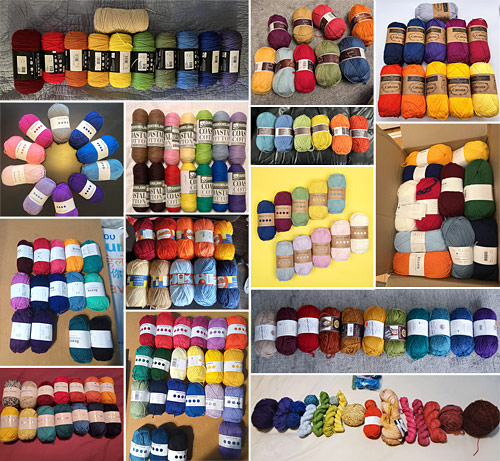 It's going to be so interesting seeing how differently all these lovely snakes will turn out…
Note: If you've already started but haven't posted to either of the groups yet, we'd love to see how you're doing too! See how to join the PJ Ravelry or Discord groups here.
In the PJ community, we have members planning to:
Make a temperature worm (for those who don't like snakes – just leave off the tongue!)
Make a pair of snakes: one for the daily maximum temperature and one for the daily minimum
Use historical temperature records from a birth year
Use a home weather station to log extremely local temperatures
Log the change in temperature each day
Carry along a sparkly thread on special occasion days (like birthdays, anniversaries, etc)
…and much more! So many great ideas – I can't wait to watch all these snakes growing throughout 2023.
If you haven't picked up the pattern yet, I just released Part 2 of the instructions yesterday, so you can jump right in and start your snake's head today if you want!
I'll be crocheting along with you all year, and I'm about to start making Sophie Jewel, my 2023 snake. These are the colours I've chosen for her (if you're curious, they're all shades of Lion Brand Heartland yarn, and I'll be using the warm grey on the right for her head):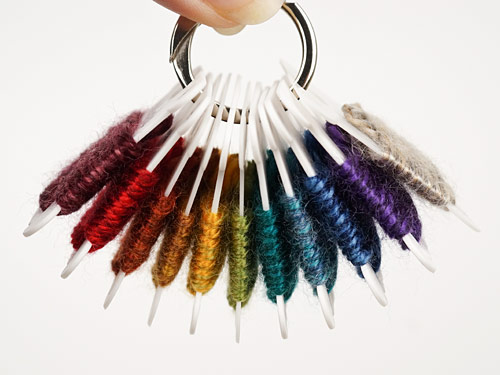 This time I've chosen to make a Small Daily snake i.e. she'll be very long and thin! Between those options and the rich heathered jewel tone colours I've chosen this time, she'll look totally different from Spectrum and Kelvin (the snakey samples I've been making this year, who you can see at the top of this post).
Ready to join in too? Here are some handy links for you:
I'm really looking forward to crocheting along with you throughout the upcoming year. See you in the 2023 Temperature Snake CAL!