The lovely Sister Diane interviewed me for the latest episode of her podcast, CraftyPod #97: Two Ways to Publish a Craft Book, with June Gilbank. We talked about our experiences in print and eBook publishing. If you have any interest in publishing a craft book at some point, either the traditional way (through a print publisher) or by self-publishing an eBook, you should definitely listen – there's a lot more to publishing a book (either way) than you might realise!
For my non-crafty family and friends who don't have any interest in the subject matter but just want to hear me and my English accent, my section starts at 13 mins through 🙂
I'm also very happy to be able to reveal my latest punchneedle design, entitled Serengeti Sunset. Distinctive acacia trees are silhouetted against the African sunset as giraffes and an elephant wander the plains of the Serengeti:

This design is a little different from my others – I laid it out as a long landscape, which would make a great embellishment for a purse or bag, as well as a stunning wallhanging.
I also modified the design to create a tapered coffee sleeve to fit over a standard disposable coffee cup. The loops of punchneedle embroidery form a thick, dense fabric which is perfect to use as a barrier to stop your hand from being burnt while holding your hot beverage of choice! Look stylish while you help save the environment by not using a second cup or a cardboard disposable sleeve each time you buy a coffee: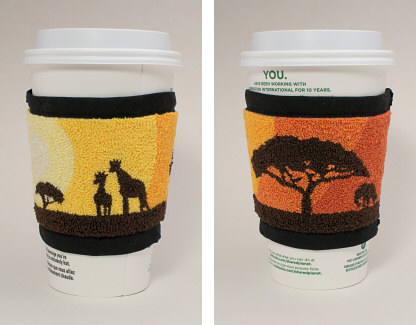 The full instructions for both the flat rectangular embroidery and the tapered coffee sleeve (with full assembly instructions) are provided in the Serengeti Sunset pattern.
The Serengeti Sunset pattern costs $5, or take advantage of my new special offers:
I've set up a new mailing list for my punchneedle designs, so please sign up for that if you'd like notification when I release new patterns!
I hope you like my latest design! Please leave me a comment if you
do…