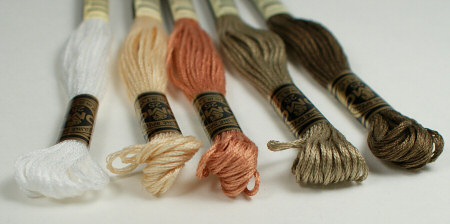 This weekend is your last chance to take advantage of my introductory offer of a FREE punchneedle pattern of your choice when you buy my eBook, The Punchneedle Handbook.
Praise for The Punchneedle Handbook:
The book is brief, clear, direct, logical. It includes everything you need to know to get started. And, best of all, June tips us off to the most common errors and explains how to avoid or correct them. I know exactly what I was doing wrong now (several things), and I can't wait to try it again.
Excerpted from CraftGossip review by Denise Felton
June has done a bang-up job of outlining everything you need to know to get started with this craft: how to prepare your materials, how to thread the needle and punch stitches, how to get perfect outlines and color effects, and how to troubleshoot problems while you're learning. June also covers the basics of finishing your work and preparing it for incorporation into other crafts. It's all illustrated with nice, clear photographs.
Excerpted from Craftypod review by Diane Gilleland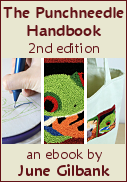 New pricing will be in effect from Monday, so if you haven't got around to buying The Punchneedle Handbook yet, now is the perfect time to take the plunge!
(Also on Monday, I'll have a brand new African-themed punchneedle design to show you…)