As you may or may not have picked up from reading my blog over the past few months, I've written a papercraft book, to be released exclusively through Barnes & Noble. I finished writing and illustrating the book months ago, but haven't seen a copy of it yet, so it all feels very unreal at this point – did I really write a book?! Maybe I just dreamt it…
Well now, thanks to my friend Jana and her camera, I have proof that it really did happen! Although it doesn't yet appear on their website, a search for "June Gilbank" on the in-store Barnes & Noble catalogue computers reveals: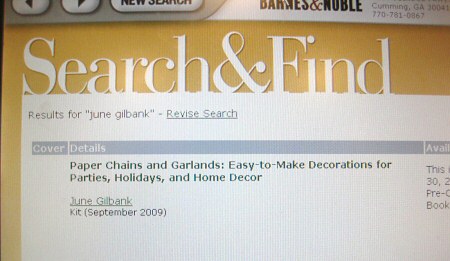 That's Paper Chains and Garlands: Easy-to-Make Decorations for Parties, Holidays, and Home Decor by June Gilbank! It really exists!
Not long to wait now – I hope I'll be able to show some pics from the book itself shortly! I can't wait to finally be able to show you the result of all the hard work I put into it. 🙂