I have a very special new design for you today – it's a beautifully-shaped Seahorse crochet pattern: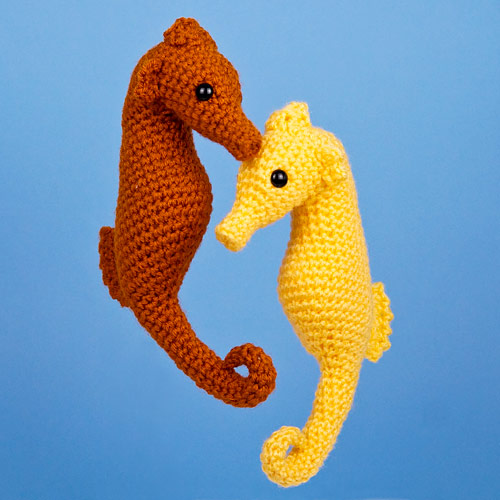 Aren't they sweet? I'm so pleased with how they turned out 🙂
Seahorse Fun Facts
Seahorses are a very unusual-looking type of fish.
They live in sheltered areas of warm seas across the world.
Seahorses swim upright, using their dorsal fin (at the back) to move them forwards and their pectoral fins (at either side of the head) for steering.
They are slow, weak swimmers, so they use their prehensile tails to grasp onto seaweed, coral, etc so they don't drift away in the currents.
Unlike most animals, the male seahorse cares for the babies. The eggs are kept safely in a special brood pouch on his stomach until they are ready to emerge as fully-formed miniature seahorses!
About the Design
My seahorse design is realistically shaped and about 9″ (22.5cm) long when worked in worsted weight yarn.
It's an elegant low-sew design, as the entire head, body and tail are crocheted as one piece. The only sewing is to attach the fins and coronet.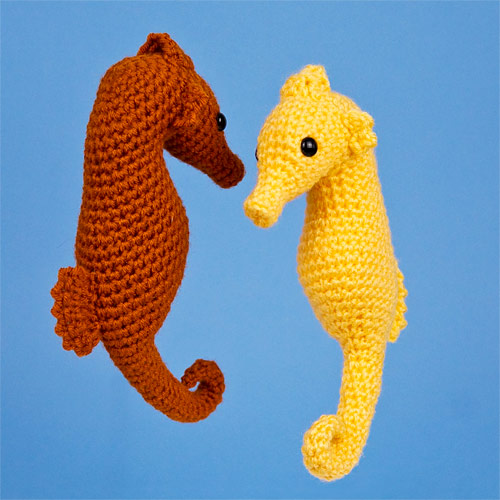 I made my samples in Lion Brand Vanna's Choice worsted weight yarn in realistic seahorsey shades, but you have lots of scope for creativity in your yarn choice!
Multicoloured or variegated yarns would work well.
Glossy or sparkly yarns would add a magical touch.
Scale it down with finer yarn and a smaller hook for a cute miniature seahorse.
Make a giant cuddly seahorse using my Giant Amigurumi techniques!
About the Pattern
As always, the pattern includes full instructions and detailed step-by-step photographs for assembly and all special techniques used, so you can follow along and make a perfect seahorse.
I've also included stitch diagrams in addition to written instructions for all the fins and coronet, so you can use whichever instructions work best for your learning style.
You'll love the way it magically comes together…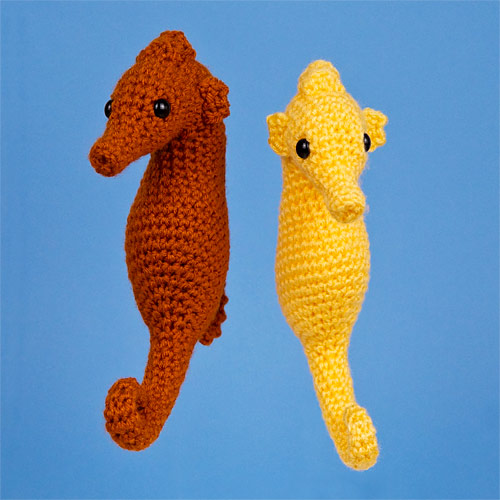 Buy Now & Launch Discount
Ready to get started? Pick up my Seahorse crochet pattern from my shop right now. Or, if you're not ready to make it just yet, add it to your Ravelry queue or favourites so you don't forget about it:
And for one week only, you can take an extra 50c off the price: add the Seahorse pattern to your shopping cart, and enter the discount code MAGIC at checkout! (Offer ends Thursday 6 June, 2019.)
---
I feel that there's something almost magical about these special creatures – don't you agree? And their beautiful elegant shape lends itself so well to a sculptural design like this.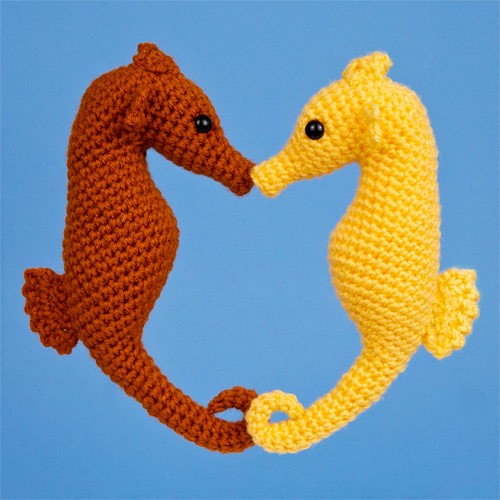 I really hope you'll enjoy my Seahorse pattern. Don't forget to share photos with me when you've made one:
…I always love to hear from you, and to see what you've been making from my patterns. 🙂