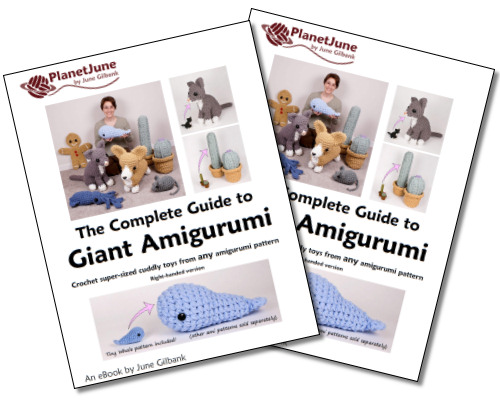 After my fun but challenging experiments with extreme amigurumi last year, I set out to see if there was a way to make super-sized amigurumi that was easy and fun to do, and develop instructions I could pass on to you. After lots of experimentation, I developed the technique of Giant Amigurumi. Look!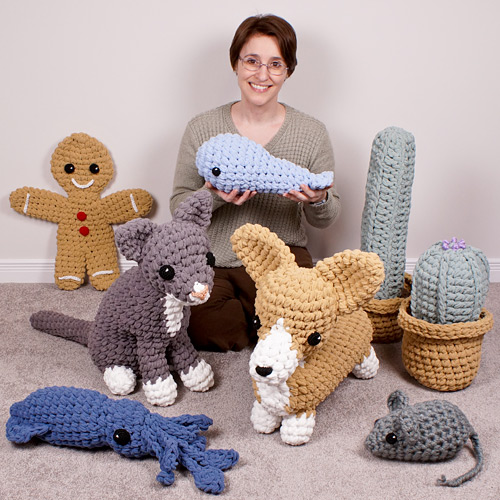 About Giant Amigurumi
Giant Amigurumi retains the joyous side of being able to scale up a small amigurumi pattern to an impressive and extra-cuddly scale, but it's much, much simpler to crochet, and the materials you'll need are far easier and less expensive to acquire.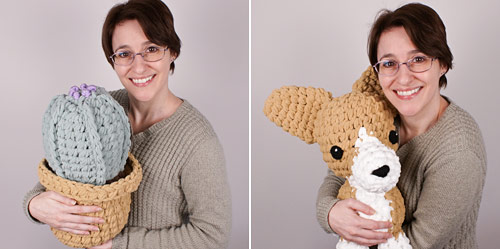 Giant Amigurumi are big, squishy, and cuddly. You'll be amazed how quickly you can crochet such a large toy! Giant amis are perfect as nursery decorations, super-snuggly toys, or decorations everyone will be talking about. Add a spark of life to your amigurumi animals with my giant dimensional crocheted eye patterns, or whip up a super-sized plant.
About The eBook
You can upsize almost any amigurumi pattern with the techniques in The Complete Guide to Giant Amigurumi and get an irresistibly cuddly, adorable result. You'll learn how to take a normal amigurumi pattern and enlarge it by 3 to 4 times to make a giant huggable amigurumi! All you need is your favourite pattern, a 15mm hook, and a super-bulky yarn, and you'll be ready to start.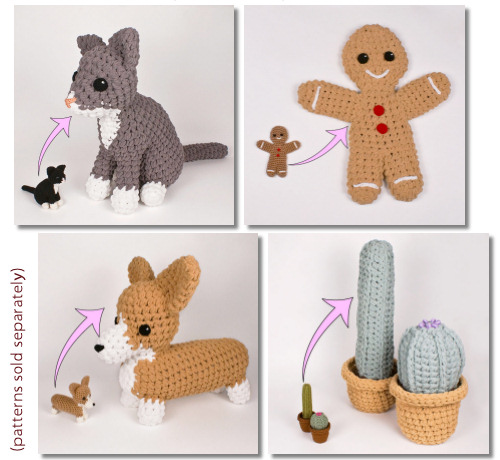 As examples, I've crocheted up several PlanetJune classic patterns using the techniques from this book, so you can see how they compare with the standard-sized amis. 
Much bigger! Just as cute! And (you'll have to take my word for this until you make your own…) exceptionally huggable.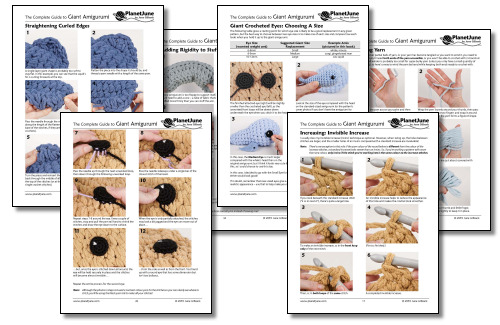 With The Complete Guide to Giant Amigurumi, I'll guide you through every step along the way, from choosing your materials and learning how to work giant stitches, to stuffing, assembly and embellishment, and more. Everything is explained in my usual detail, with clear, close-up photos and instructions.
I've discovered lots of tips and tricks that will make your giant amigurumi easy to make and assemble, and many of them will also be useful for non-giant amigurumi, such as:
A better way to make a secure magic ring for bulky, textured or weak yarns
How to add more stiffness to floppy/curling pieces
…Having these tools in your back pocket will improve your everyday amigurumi projects too!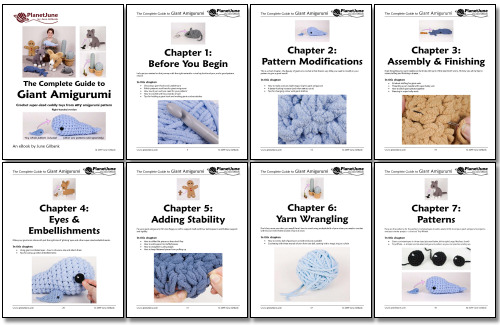 You might think there's nothing more to giant amigurumi crochet than choosing a large enough hook to go with your extra thick yarn, but every stage of making a giant amigurumi is slightly different from what you might expect, and I've designed this book as a comprehensive reference guide that covers everything from the absolute basics to tips for fixing problems and making complex amigurumi.
I encourage you to use the book as a reference – whenever you get stuck, or move onto a new stage of your pattern, check back with the book and see what I advise! (Check the full contents here.)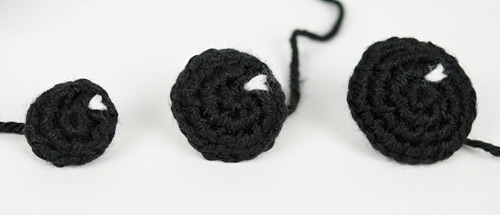 The Complete Guide to Giant Amigurumi also includes patterns and assembly instructions to make my realistic 'shiny' crocheted eyes in all sizes – the perfect finishing touch to your giant amigurumi. They look just as round, shiny and appealing as plastic eyes, but are child-friendly and easy to stitch into place.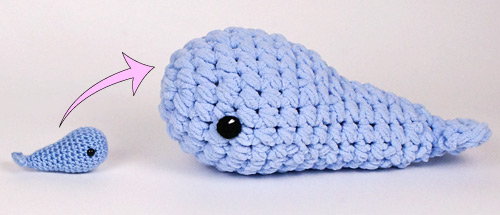 And the ebook also includes my Tiny Whale pattern as a bonus, so you can get started right away with a simple introduction to giant amigurumi crochet.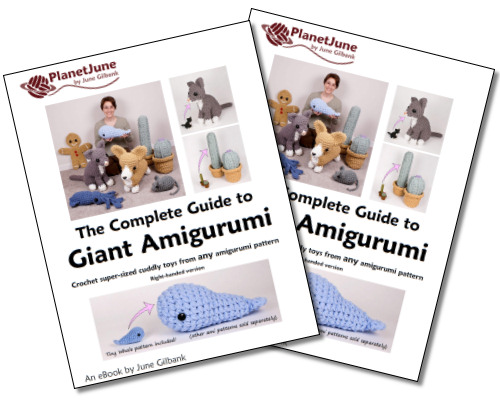 To keep it relevant to you, this ebook is available in two versions, for right-handers and left-handers. Choose your version knowing that all the photos will show you exactly what you need to do from your perspective for every technique! 
And, as with all PlanetJune patterns and ebooks, your licence includes access to any future updates if there's a new edition of this book in the future. 
Links and Launch Discount
You can buy The Complete Guide to Giant Amigurumi right now from my shop, and download the ebook immediately as a PDF file. (It's 50 pages long and about 9MB.)
Click here to buy The Complete Guide to Giant Amigurumi now >>
And, for this week only, use code GIANTAMI at checkout to save $2 on the purchase price. (Valid until next Tuesday: Feb 5th, 2019)
Ready to Get Started?
I'm sure you'll find giant amigurumi-making just as fun and appealing as I do – I just love these big squishy amis 🙂
Don't forget to share photos of your giant amigurumi projects using the #giantamigurumi hashtag, and please also tag me @planetjune so I can see what you're making!