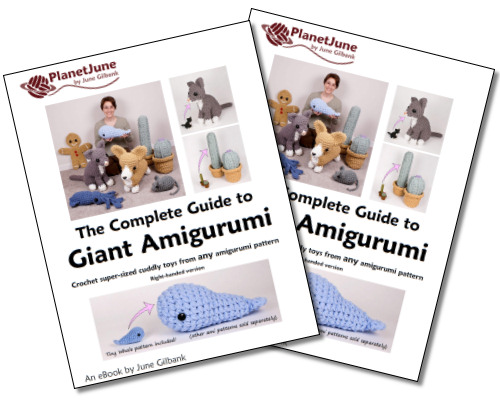 Are you unsure about taking the plunge into full-scale Giant Amigurumi? Then Mini Giant Amigurumi might be just what you're looking for!
Allow me to demonstrate with my cute purple whale: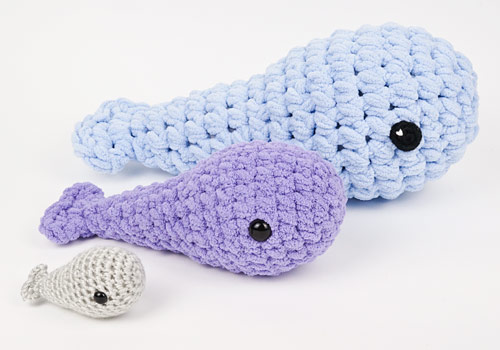 Front: Standard (worsted weight) whale (silver)
Middle: Mini Giant whale (purple)
Back: Giant Whale (blue)
As you can see, the Mini Giant whale bridges the gap between a standard amigurumi and a giant – it isn't close to the size of a full giant ami, but is still over twice the size of a standard amigurumi.
Why Mini Giant Amigurumi?
There are lots of reasons why Mini Giant Amigurumi might appeal to you vs Giant Amigurumi:
You don't have a 15mm hook
You want to ease yourself gradually into sizing up
You don't have the strength or mobility for the larger hand/arm motions
You're short on funds for all that yarn and stuffing
You don't have the space for giant ami!
Don't let that be a reason to stop you trying to size up some amigurumi – you can still join in the supersizing fun and use all the techniques from The Complete Guide to Giant Amigurumi to great effect by making mini giant amis.
How to Make Mini Giant Amigurumi
To make a Mini Giant Amigurumi, instead of worsted weight yarn and an E US/3.5mm hook, you'll need:
1 strand of a super bulky (#6) yarn – I recommend a chenille-type yarn such as Bernat Blanket
an L US/8mm crochet hook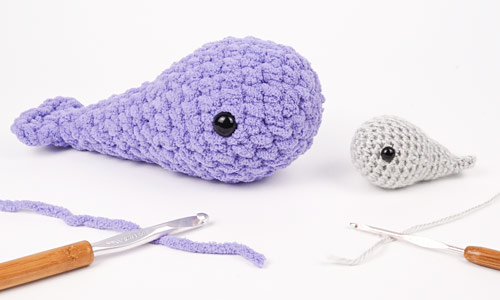 Then use the techniques from The Complete Guide to Giant Amigurumi (especially my Secure Magic Ring, which works beautifully on this chenille-type yarn) to make and stuff your Mini Giant Amigurumi!
To finish, you can either use one of my crocheted 'glinting' eye patterns from the ebook, or you may find that you have plastic animal eyes large enough. For my whale, 15mm plastic eyes were just about large enough; for a larger amigurumi, the Small Eye pattern from the book would work perfectly.
Your Guidebook to Giant Amigurumi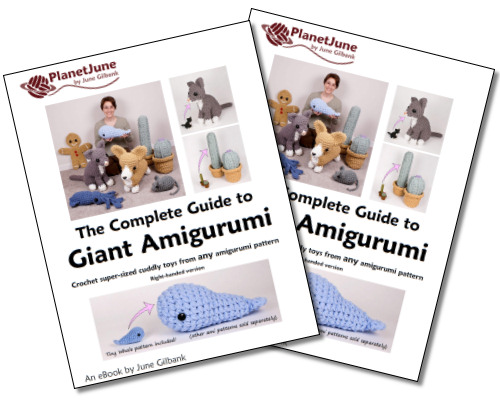 Now, between standard amigurumi, mini giant amigurumi, and full giant amigurumi, you have the choice of sizing up your amigurumi as much as you like!
And if you haven't bought my new ebook, The Complete Guide to Giant Amigurumi yet, check out the reviews (here) to see what people are saying about it – I think you'll love it too 🙂