With the Accessory-Along crochet-along about to begin on October 1st, this was perfect timing for me to launch my latest PlanetJune Accessories design, the Rippled Lace Rectangular Shawl. Two harmonising shades of yarn undulate together to create a beautiful gossamer-fine shawl with airy lightness and amazing drape.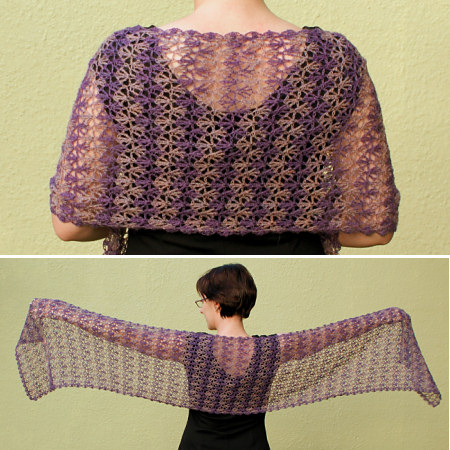 The lace pattern has a 2-row repeat, so you'll pick it up in no time and be able to enjoy crocheting without having to worry about a complicated pattern. The clever stitch pattern is worked continuously from 2 balls of yarn; there's no fastening off between stripes, or lengths of stranded yarn to worry about hiding. You can even omit the edging and the shawl will still look good!
My lace patterns are designed to be worked with normal-sized hooks into the spaces between stitches, which means that, after the foundation row, there's no hunting for those tiny fine loops to work into, and they are a pleasure to work.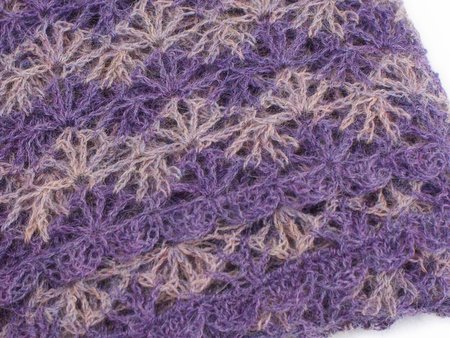 As always, I include full instructions for modifying the size of the shawl in both length and width – you can make it as narrow as a scarf, or as wide as a blanket, and the length is only determined by how long you want it (and how much yarn you have available).
My shawl uses an entire 400m/50g skein of the main darker colour, and 86% of the contrast colour skein – you can see that it's very long and a shorter version would still be ample for most people. I used a laceweight baby alpaca yarn (KnitPicks Alpaca Cloud in Foxtrot Heather and Iris Heather) which is surprisingly warm, even with such an open lacy design – I'm really going to enjoy wearing this!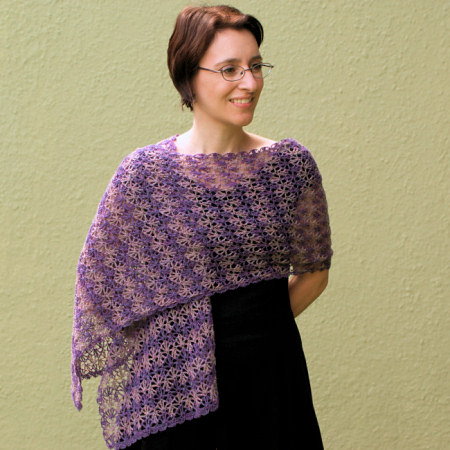 The Rippled Lace Rectangular Shawl is a versatile pattern; here are a few modification suggestions to get you started:
Use contrasting colours of yarn to punch up the 'wow' factor of the rippled stripe effect.
Work the design in a heavier yarn (fingering weight/sock yarns would look lovely) to give a more substantial shawl with more warmth and coverage.
Omit the edging, or edge with a third colour, and you'll be able to make the most of your 2 skeins of yarn in the shawl body.
For a faster project, make a narrower scarf-width version.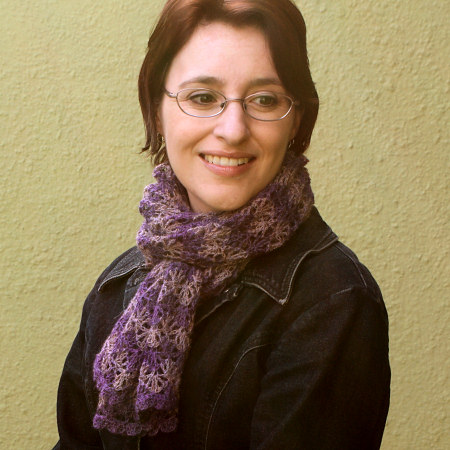 I hope you'll enjoy this shawl as much as I do! You can buy the Rippled Lace Rectangular Shawl pattern individually from my shop, or buy it as part of a custom set of any three PlanetJune Accessories designs for a bargain price.
If you're not quite ready to buy though, how about queuing it on ravelry so you don't forget about it?
If you'd like to make this shawl, or any of my other accessory designs, I hope you'll join us in the PlanetJune Ravelry group for the Accessories crochet-along. The CAL officially starts on October 1st, but if you can't wait to get going, feel free to start crocheting early!