I finished my new PlanetJune Accessories shawl design in June. The pattern was ready, the stitch diagrams were ready, the blocked and beautiful sample was ready. Only one thing remained to do before I could publish it: the cover photos.
I don't feel comfortable here walking around by myself in a dress, carrying a (relatively) expensive camera on a tripod, and posing for photos with my back to the camera while hoping nobody is walking off with it at that very moment. I always felt safe doing that in Canada, but here it just feels like a stupid risk, and so the months ticked by with no shawl pattern…
The only solution I could see was to give up on trying for beautiful scenery – after all, the main focus of my pattern cover photos should be the shawl, not the background – and take the photos in the safety and privacy of my garden. But our garden is a scrappy mess: we're both very busy, and gardening isn't a high priority for either of us. (Plus, the birds and butterflies and geckos and chameleons seem to be very happy with the garden's current state. It's not a mess: it's a natural wildlife garden!)
One particular wall in the garden was the most promising candidate for photos – it's tall, wide, interestingly textured… and a complete mess. Flaking paint in 2 or 3 colours, bare areas, lichens and general grime made for a horrible dirty-looking background – not exactly the look I want people to associate with my beautiful accessories! So I gave myself a weekend project to fix up this wall: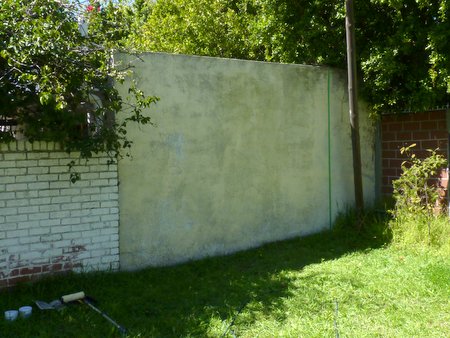 I scraped off all the loose paint and other bits with a wire brush, then scrubbed the entire wall with a bleach solution to get rid of the dirt and lichen. As there were areas with no paint or primer, I used an exterior primer to cover the whole surface (very slow going on such a heavily textured surface) and bring it up to bright white: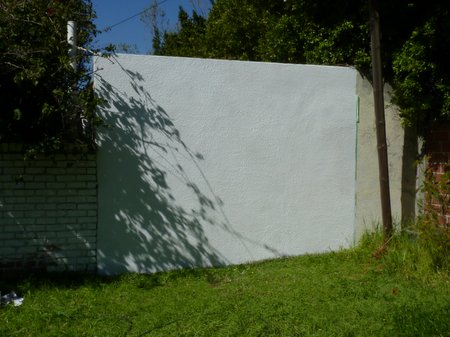 And then I rolled on a coat of custom-tinted exterior paint. I chose this shade of green because it's a fairly natural, neutral colour. It should also be easy to tweak in post-processing to make it yellower, brighter green, or grey, so I can customize the backdrop for each photoshoot.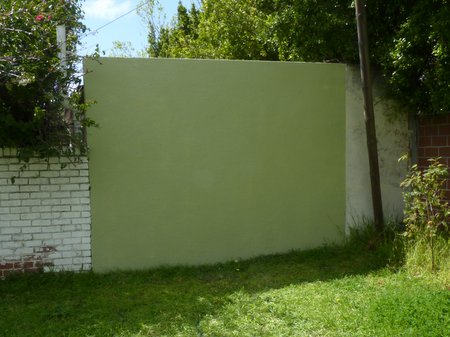 After the paint dried, I can see it has some thin areas where the colour looks paler, so it'll need a second coat at some point. But this was a good enough finish to finally take my shawl photos – phew!
Now I'll have plenty of photography opportunities with beautiful natural lighting in my new outdoor studio: a couple of hours of shade in the mornings before the sun peeks over the wall; late afternoons once the sun has hidden behind the mountain; plus any time the sky is cloudy-but-bright. And now I don't need to travel to get my shots, I don't need to worry that the weather will change while I'm en route!
This may seem like an expensive and time-consuming solution (the paint wasn't cheap, and it took a long time to prep and prime the wall), but, given my circumstances, I think this photo-studio-in-the-garden makes a lot of sense. It isn't perfect – of course I'd prefer beautiful scenic views to a blank wall – but at this stage I don't have the time to hunt for locations or the energy to deal with the stress and worry involved in trying to set up and photograph there. My choices were to abandon my Accessories range simply because getting cover photos was proving too difficult, or go for a compromise. I love creating new Accessories designs, so being able to take the photos in my own garden is definitely the best solution for my current situation.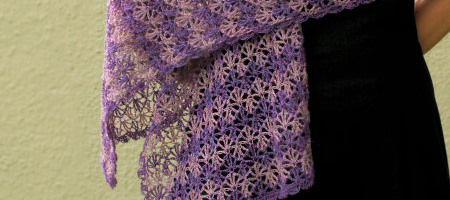 A little teaser for the new pattern…
I think it's really important to try to make the best of things and accept that not everything can be exactly the way you'd like it to be in an ideal world. Moving to Cape Town required some major adjustments, in my personal life, of course, but also in my business life. I've been here for well over a year now and I'm still struggling with some aspects of maintaining PlanetJune from a different continent – for example, just acquiring worsted weight yarn for new amigurumi designs is no easy task – so anything I can do to simplify my life and my business practices is worth it. In the end, I know what my priorities are: I can compromise on my photo backgrounds, but not on my pattern quality – and I don't think anyone could argue with that decision!
And now I'm relieved and delighted to finally be able to say: look out for a beautiful new PlanetJune Accessories pattern, launching tomorrow! 😀