I'm so happy to finally be able to reveal the secret project I've been working on for the past couple of months. You may remember that I discovered a little-known traditional technique called Punchneedle Embroidery a couple of months back, and posted about my first experiments with it.
Since then, I have been busy researching, learning, experimenting, designing, and testing, and I'm so excited by my results!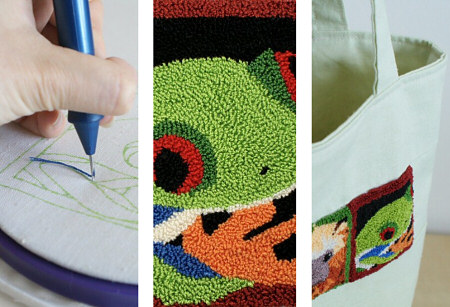 Why isn't Punchneedle more popular? I think the reason is that all the available patterns seem very focused in one genre (country/primitive style) that doesn't appeal to a lot of today's crafters, so Punchneedle hasn't seen the surge in popularity that many other traditional crafts are experiencing.
Well, I'm here to change all that – this technique is too good to be overlooked any longer! Here are just a few of the reasons I find it so appealing:
Easy: Only one simple stitch to learn; you don't have to be super-neat to get a beautiful result
Fast: No need to knot the ends of the thread, and, other than the outline, it doesn't matter exactly where you place your stitches, as long as you punch enough stitches to fill each area
Stunning results: Easy to create bold, bright, appealing embroideries
Relaxing: Unlike cross stitch, there's no counting involved – just fill in each area with colour like a paint-by-number painting!
Inexpensive: After you've bought a punchneedle and hoop, the only supplies you need are fabric and embroidery floss
Easy to fix mistakes: Any stitch can be easily pulled out without affecting neighbouring stitches; with a few simple techniques you can fix any unsightly mistakes
Portable: Carry all your project supplies in a small bag for those crafting on-the-go moments
Versatile: Make finished embroideries into framed artwork, decorative patches or appliqués, or add fabric borders to make quilts, cushions, etc – there's limitless potential here
Intrigued yet?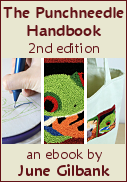 I've written an eBook called The Punchneedle Handbook: Miniature Punchneedle Embroidery Basics & Beyond. This eBook includes everything about punchneedle from the absolute basics for those who have never heard of this craft, to my techniques that will allow absolutely anyone to create beautiful punchneedle embroideries. I designed the eBook to be a go-to reference book for all your punch needle questions. See more details and the table of contents.
I've made an excerpt from the eBook into a free tutorial so you can get a taste for what punchneedle is about.
Of course, a techniques book would be useless without some patterns, and this is the part I'm really excited about – time to show you my initial designs! I hope you like them…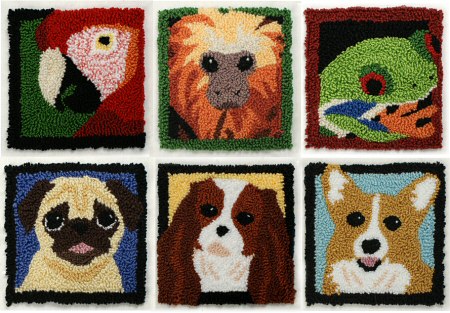 I've found that designing in 2D is very different to designing in 3D – I think that the shaping is the most important feature of my crochet patterns, whereas with these punchneedle designs it's really the colour that gives them such impact.
(I'm also working on another piece – something very different to the above designs, which will show a different side of punchneedle – more on that later today.)
Square designs are so useful because they can easily be sewn directly together to make a larger piece, or fabric borders added to make quilt squares etc. Here's what I've made with my three jungle designs: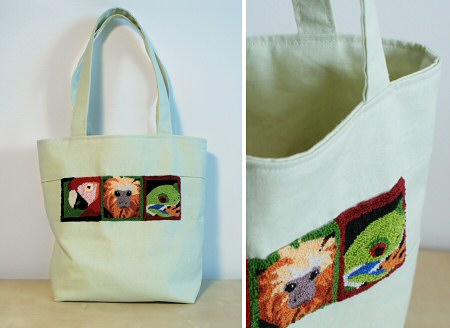 … a cute little green linen tote bag. The techniques I used to join the finished embroideries together and to attach the fabric 'frame' to make the front of the bag are covered in detail in The Punchneedle Handbook.
My punchneedle patterns are available individually or in a set of any three patterns of your choice. As an introductory offer, I'm also giving away one pattern (of your choice) FREE with every purchase of The Punchneedle Handbook eBook!
I know this has been a long post, but I had a lot to cover! If you're interested in learning more about punchneedle, here's a summary of your options, with links:
Please let me know what you think of my new venture! I anxiously await your comments…