With an astronomer for a husband, it seemed doubly appropriate that I make something to commemorate the 40th anniversary of the moon landing (July 20, 1969). And with my new punchneedle fixation, it seemed obvious what I should make: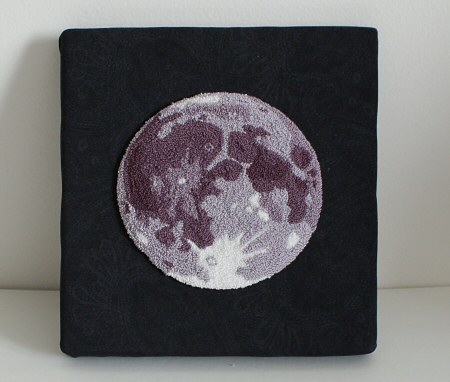 I looked at source photos from NASA to make my moon design, and then embroidered it with punchneedle. I decided to use a soft purple colour scheme instead of harsh greys – four shades of purple plus white. I even got some professional advice from my resident astronomer to make sure my design was accurate before I started!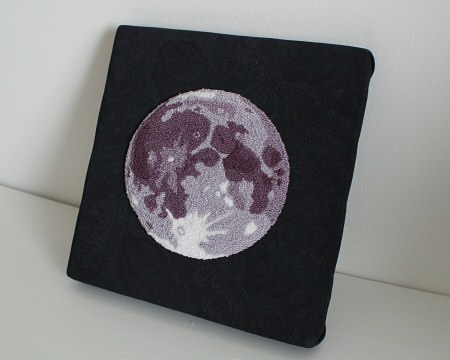 The finished embroidery is 5 inches across. I made it into an applique and attached it to a black paisley fabric (doesn't really show in these pics, but it's black on black and has a soft velvety texture) mounted on a padded stretcher bar frame. I love the texture of the punchneedle and how it almost looks 3D. And the purples happen to match my new shelves perfectly. I'm very happy with it – now I just have to hang it!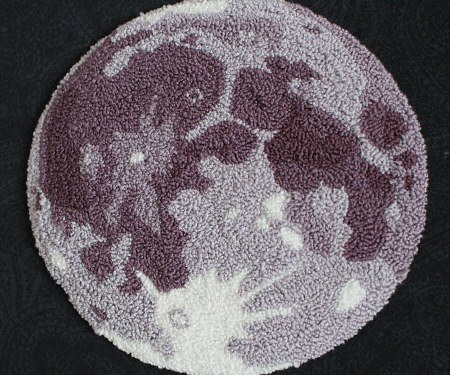 When I write up the moon pattern I'm going to give a choice of colour schemes (sepia tones, soft blues, etc), in case purple isn't your thing. Any requests?
I hope you like my moon! Are you starting to see how cool punchneedle can be?! I really do love it!
Edited to add: I've set up a new mailing list for my Punchneedle designs – sign up if you'd like to be notified when the moon pattern is finished!
Edited to add: The Moon Punchneedle pattern is now available for purchase 🙂