I don't sell punchneedle equipment in my store because I wouldn't be able to offer competitive pricing. Instead, I'll give you some information about where you can buy punchneedles and some of the commonly-available options.
As far as I know, all the big craft stores sell at least one type of punchneedle – I have verified that Michaels, JoAnn & AC Moore all sell punchneedles. I suggest you look for punchneedles in craft or embroidery supply shops (either locally to you, or online).
To give you an idea of what's available, here are some of the types of punchneedle you may see, with my comments about them: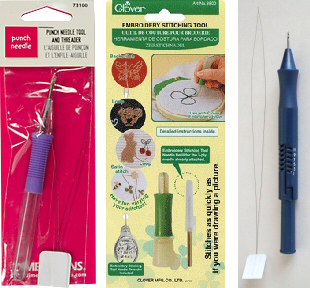 L-R: Dimensions, Clover, Ultra Punch
Punchneedles come in several styles and sizes. The basic needle (size medium) accommodates 3 strands of embroidery floss, but fine 1-strand needles and coarse 6-strand needles are also available. (UPDATE: See the bottom of this post for more size information.) Some punchneedles have adjustable depth (which determines the length of the loops you punch); the most basic needles have a fixed loop length. The more expensive punchneedles may have a more comfortable grip for long periods of use, but they all work in exactly the same manner, so a basic punchneedle is all you need.
The Dimensions punchneedle is inexpensive and not adjustable, but you don't need an adjustable needle for miniature punchneedle, so this needle is really all you need to get started. You should find it near the cross stitch section in almost any craft stores.
The Clover Embroidery Stitching Tool is more expensive and you can buy various-sized needle tips (you will need a MEDIUM needle for it), but it is quite short and some people may prefer a longer pen-shaped barrel (I know I do!)
The Ultra-Punch Needle (previously sold as Cameo Ultra Punch) is the most expensive and has an adjustable loop length. I own this needle – it is very comfortable to use, but I always leave it on the shortest loop length. You can buy it in three needle tip sizes or in a set of all 3 needle tip sizes. You only need the MEDIUM sized needle. (I'm not sure if you can buy this needle in stores; you can buy it from amazon, or it's available online from JoAnn.com and probably elsewhere too.)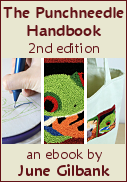 There are other brands of punchneedle too – basically, any punchneedle with a medium-sized tip is suitable for the Miniature Punchneedle Embroidery taught in The Punchneedle Handbook.
I hope you find this information useful!
UPDATE: Punchneedle Tool Sizes
Punchneedle sizing information is very unclear, and the packaging rarely tells you exactly which sizes you're buying! I've researched it and here's what I found. The punchneedle sizes are as follows:
EXTRA SMALL (1 strand of floss)
SMALL (2 strands of floss) = 1.2mm
MEDIUM (3 strands of floss) = 1.6mm
LARGE (6 strands of floss) = 2.2mm
EXTRA LARGE (used with rug yarn or ribbon)
In general:
If a punchneedle comes with only one needle tip, it will be MEDIUM unless otherwise marked.
Three needle tips will be SMALL, MEDIUM and LARGE.
Four needle tips will also include the EXTRA SMALL (the rug punch is a separate tool and will never be included in a set with the other sizes)
Mystery solved!