Okay, so I did a little test this weekend to establish what punchneedle is all about and whether it would be something I could design patterns for. This is my test piece – you may recognise the subjects as my Fuzzy Penguin and Fuzzy Seal 🙂 It's approx 3.5″x 2.25″ and worked with 3 strands of DMC embroidery floss.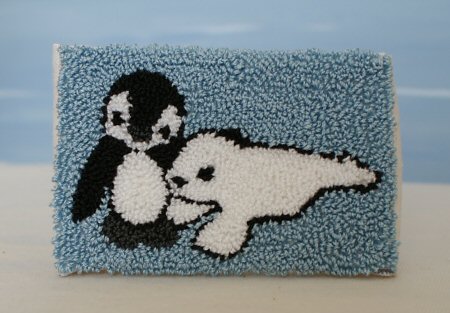 For this sample, I wanted to figure out what kind of designs would look best, so I designed the penguin to be not outlined, and the seal with an outline. I've learned a few things about designing for punchneedle:
Not outlining looks best – the outline looks a bit uneven in places because it's only 1 loop thick
Tiny detail is difficult to replicate (e.g. the seal's nose)
Bold colours and patterns will look really good
But I can see a lot of potential here. I learnt that punchneedle is really easy to do, and it's so fast compared with cross stitch! I punched the penguin and seal in under an hour and a half – and it was my first attempt, so that includes my slow start as I tried to learn how to punch correctly. The background took a bit longer, but it's so relaxing and you don't have to concentrate much, so it's perfect to punch away while you watch TV.
UPDATE: By request, adding a close-up pic so you can see what the stitches look like:


L: Back of piece: looks like regular backstitched embroidery
R: Front of piece (edge on): lots of loops. Mine are 3mm tall but the tool lets you adjust the loop length to much longer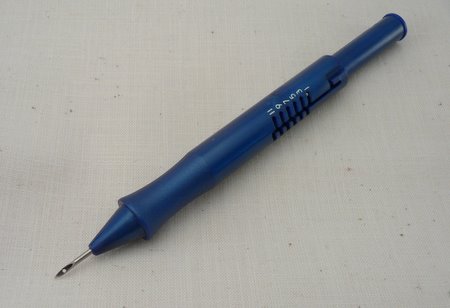 Now I've finished the experiment, I can visualize a whole series of designs… I think a range of dog breeds would be so cute, and also a wild animal range (giraffe, panda, etc). You could use them to make quilt squares (just add a fabric border), embellishments for bags etc, or just to frame.
Now my questions to you…
Are you intrigued by punchneedle? Would you like me to put up a basic tutorial so you can see how it works?
Might you be interested in PlanetJune punchneedle designs? (They would, of course, be better than my test piece above – I'm thinking more realistic and colourful)
I'm obviously still in the planning stages here, but I'd love some early feedback before I embark on a design range. I'm not asking for any kind of commitment; just your opinion. It's a cheap craft to get into; once you've bought the actual needle, an embroidery hoop, and some woven fabric, then all you need to pick up for each project is the floss colours.
If there's no interest, I'll still make some for myself, just for fun, but I really think this is another craft that just needs a little updating with some fresh, cute patterns to be relevant to us. All the patterns I've seen are a bit too, um, country (is that the right word?) for my taste.
Please let me know what you think! Any comments welcome.