Time to reveal the design I was working on at the Creativ Festival. It's a Ring-tailed Lemur: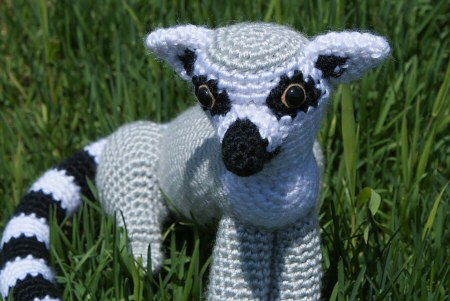 Lemurs hail from the island of Madagascar, off the southeast coast of Africa. Madagascar's geographical isolation has led to a unique ecosystem of unusual animals and plants, of which lemurs are probably the most well-known.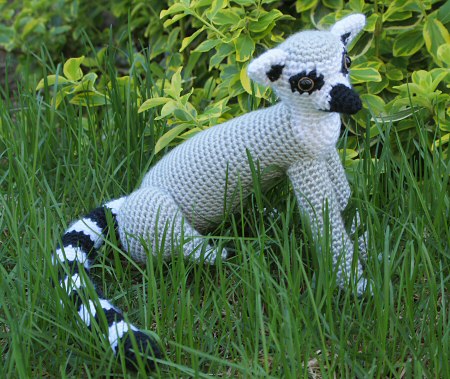 Lemurs are the Madagascan equivalent of monkeys, but they are prosimians – more primitive than the monkeys and apes found elsewhere in the world. There are over 90 species of lemurs in Madagascar!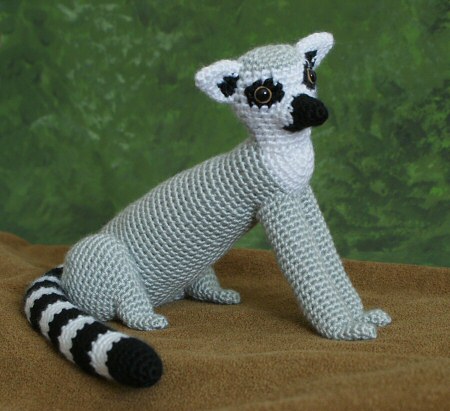 Ring-tailed lemurs are characterized by their distinctive long black and white striped tail and a cat-like appearance. You may recognize them from the Madagascar animated movies or the Animal Planet show Lemur Street/Lemur Kingdom.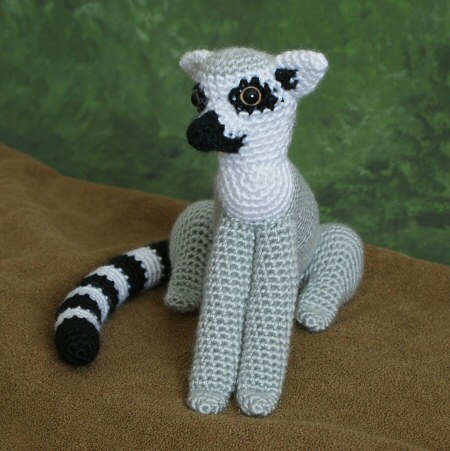 Would anyone be interested in a Ring-Tailed Lemur pattern? It would be slightly more advanced than my usual patterns. Specifically, the colour changes in the head (3 different colours) and the shaping of the back legs are a little more advanced than my other patterns. I've taken step-by-step photos to demonstrate the trickier parts, but I'd like to know if there's any interest before I edit all the photos and write it up.
Please leave me a comment if you like my lemur, or if you'd like me to write up the pattern!
UPDATED: The pattern is now available in my shop 🙂