I meant to post this yesterday, but I was just too tired to write coherently! The show was a great success – I met loads of lovely people, made some money, and managed to stay awake and reasonably alert through all three wonderful, exhausting days 🙂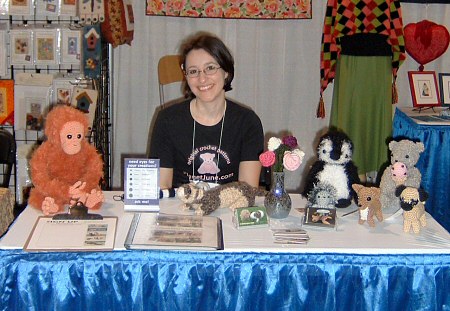 My table. The orang utan got a lot of attention!
You can't really see it in the photo, but I did wear the tiny blue rose hair clip. And if you look carefully just in front of my right arm, you may catch a black and white peek at my latest design-in-progress on the table. More on that next week, most likely…
I was tweeting from the show whenever I had a spare minute (so not very often). Being able to communicate any interesting personal news immediately is one of the most appealing things about Twitter, and I loved being able to read the replies on my phone in quiet moments!
My Who's Who in the Crochet Zoo was a fun talk – I brought along 15 different animals in all shapes, sizes and yarn types, and tried to share some of my knowledge and tips. I had 15-20 attendees and I think they enjoyed it too.
My Crochet a Decorative Rose class on Saturday also had about 15-20 people (I was too busy teaching to count). On Sunday, though, the same class was insanely popular – people were lining up 1/2 hr early to get tickets, and it sold out within minutes! I felt like a crochet rock star! I'm still working on the pattern for the roses, but it'll be up here in the next day or two, so if you wanted to come to my class but couldn't get a ticket, check back here soon…
I'll also be sending out a thank you discount code to everyone who has signed up for my mailing list, so if you're not on my list yet, you might want to sign up now so you can take advantage of the discount!
Hmm, what else can I tell you about the show? Oh yes, the new business cards! I put out both new designs (Discworld and Guinea Pigs) and the old 'classic' style cards, and people took whichever they liked best. It looks like around 50 each of the Discworld and classic cards were taken, and close to 100 of the Guinea Pig cards, so I think going for the cute eye-catching card designs was worth it! I'd like to think that people might pin them to their noticeboard instead of throwing them away as soon as they got home…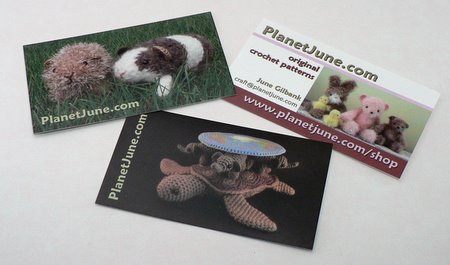 The old card is top right – see how much more eye-catching the new ones are? (All the info is still there – it's just printed on the back)
I didn't really get much of a chance to look around the rest of the show, but my lovely booth neighbours from Upper Canada Quiltworks were demoing and selling a very intriguing looking craft: punchneedle. Ever heard of it? I'll do a post on it when I've had a go – I couldn't resist buying one to try! It makes a sort of looped embroidery. I can't wait to try it out; I have loads of design ideas already.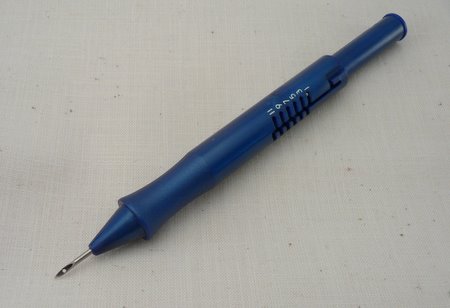 It's a punchneedle!
So, all in all, the show was amazing. As always, the best part of being there was getting to actually interact face to face with people. It was lovely to see some familiar faces from previous shows, and to make new friends! Of course, it's not all good – you have to wonder at the insensitivity of those people who walked past my table with a look of absolute contempt on their faces because my art/craft is 'only toys'… Hello?! I hope I've never been so cruel to anyone's face, no matter my opinion of their work! But for each one of that type of person, there were 10, or 20, or 100 people who smiled when they saw my work. And that reaction is just better than anything you can experience online… ♥