I've started an ongoing long term craft project to make a group of different butterflies using Punchneedle embroidery – all different colours and shapes but all based on my interpretation of real species – and mount each one individually on a wall so they all 'fly' together in a colourful cloud.
I finished the design for my second Punchneedle butterfly in September, punched it up over my Christmas break, and backed and trimmed it this week. You may have seen my in-progress shot a couple of weeks ago on Twitter: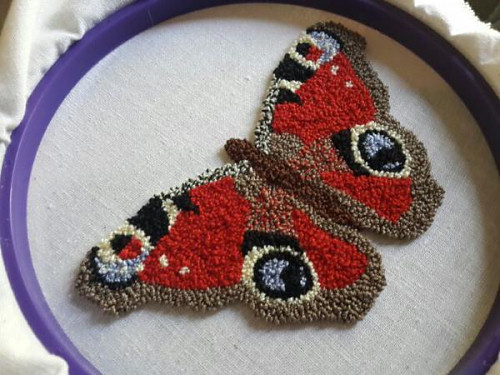 The Peacock is arguably one of Britain (and Europe)'s most beautiful butterflies and one I remember growing up with. I thought its bright colours and bold patterning would make it a good choice for punchneedle. I used the colour-mixing technique from my Punchneedle Handbook to extend my palette and add detail along the tops of the wings and to either side of the body – I think it works well.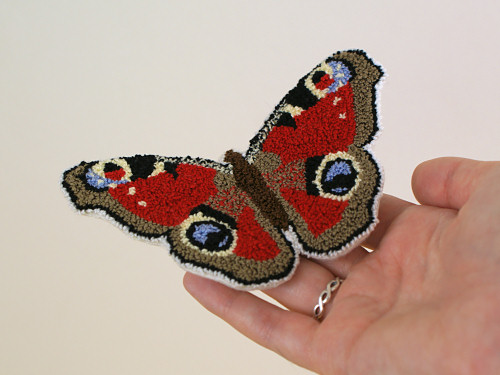 I wired my Peacock's wings and backed it with felt, as I did with my Sea Green Swallowtail, and I'm enjoying seeing them together in my office/studio. (By the way, they aren't to scale because each butterfly is designed to fit inside a 6″ embroidery hoop – that allows enough size to capture some nice detail in the wings, but not so much that they take forever to complete.)
My 'wall of butterflies' concept is slowly starting to take shape! I'll move them to a wall once I've made a couple more – they'd look a little lonely at the moment. I'm looking forward to seeing the collection gradually expand over the coming months and years.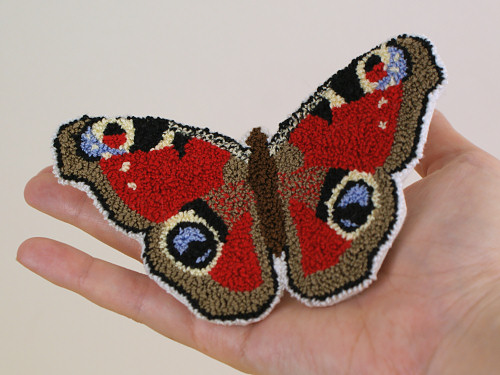 I'm very happy with the way my Peacock turned out. Do you like it too? I wonder which butterfly I'll try next… maybe a Monarch (my favourite butterfly from Canada), or a Rajah Brooke's Birdwing (to remind me of our trip to Borneo). I'd like to have a mix of butterflies with personal significance to me, species that are especially beautiful, and an overall variety of colours and wing shapes in the collection, so let me know if you have any favourites I should consider 🙂
If this post has piqued your interest in Punchneedle embroidery, take a look at my Punchneedle intro page for information on this craft and how to get started.