Wow, what an amazing month January has been: the response to my AmiCats far exceeded my expectations (although I had been secretly hoping that my 3 years of refining prototypes would end up paying off financially as well as artistically) and it's so rewarding to finally see my patterns out in the world after all this time of working on them.
AmiCats CAL
The AmiCats crochet-along is in full swing! We're only a couple of weeks into this CAL, and just look at the cute kitties: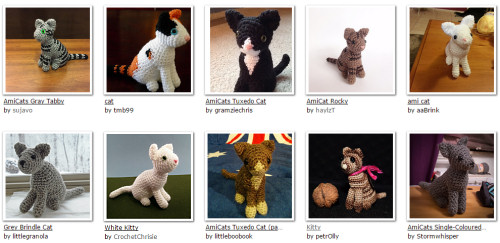 We've already got AmiCats representing 4 continents of crocheters, so I'm hoping they'll be popping up all around the world very soon…
The AmiCats CAL runs until the end of February, so if you've bought the patterns, please join us in the PlanetJune Ravelry group and post photos of your ami kitties to the CAL so we can all enjoy them! (If you haven't bought the patterns yet, you can find them all in the AmiCats section of my shop.)
Love Hearts pattern
With Valentine's Day fast approaching, I thought I'd remind you of my free heart pattern for your seasonal decorations. Love Hearts includes perfectly-shaped flat hearts in 3 sizes, plus a puffy heart: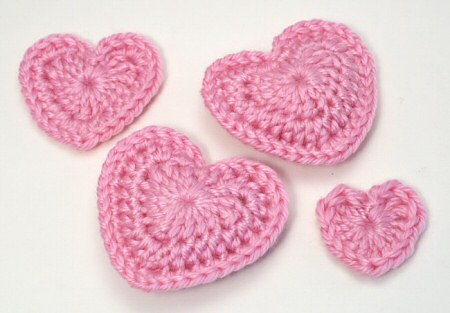 Love Hearts is a donationware pattern, so you're free to use it at no cost, and, if you'd like to leave me a donation of whatever you feel it's worth, you'll also get a handy printable PDF version as a thank-you. 🙂
Hack Attack
My web server was subjected to a DDoS attack over the past few days. It's been very stressful – after the first wave of the attack was blocked, another popped up to take its place – and I apologise if you experienced any difficulties accessing PlanetJune (e.g. slowness, pages not loading correctly) in the past week.
The attacks have all now been blocked (thanks to stellar tech support from my webhost, ServInt), and PlanetJune is running smoothly again. Phew!
Review and Win contest
You're automatically entered in the next monthly draw every time you write a review for a PlanetJune pattern you've enjoyed – and you'll also be helping future customers make an informed decision about patterns they are considering buying.
I have two months of prizes to announces today, as I posted my 2014 Year In Review instead of a monthly update in January.
December's winner is Simone N's review of my Chinchilla:
This great pattern provides you with easy-to-follow instructions for a super cute, realistic Chinchilla. Also the sewing part is very easy to understand, thereby guaranteeing an amigurumi you'll immediately want to cuddle with!
And January's winner is Alexa B's review of my Iguana:
As you can see, this iguana is highly realistic and also surprisingly easy to make. I really liked the color changes here, you can barely see them, unlike with most patterns. Great technique!
Thank you for your reviews, and congratulations to both of you – I've emailed you both to find out which pattern you'd like as your prize!
What's Next?
I'm happy to be making good progress with my latest commissioned design, so there'll be a new PlanetJune Camel pattern coming very soon. I can't wait to be able to show it to you – watch this space…