Thanks to a long-lasting thumb injury and a intercontinental move, it's been a frustratingly long time since I've been able to make any new crochet tutorial videos. But all that's about to change!
To commemorate my return to YouTube, I've updated my video template with a fresh new look and animated logo, and, to ease myself back into the video-making saddle, I've re-edited my last-published video to add some additional info (as well as the new look). Want to see?
Better Back Loop Only Details for Amigurumi (right-handed)
Better Back Loop Only Details for Amigurumi (left-handed)
Note: The videos may look a little small embedded in the blog: if so, you can fullscreen them or click through to YouTube (links: right-handed; left-handed) to watch them full-sized 🙂
You can also find more detailed information on this topic, including a discussion of when to use it in my accompanying tutorial post.
And here's a topical bonus: if you're taking part in our BotaniCAL crochet-along, the technique I demonstrate here is perfect for the edge around the bottom of your crocheted plant pots!
New Tutorials Coming Soon!
Now I'm back up to speed with editing with my new software and I have my new template set up, you can expect regular new crochet videos from me again! All my tutorials are clear, concise and in close-up, and come in right- and left-handed versions, with full closed captions (in case you find it easier to read my words than listen to them).
Subscribe to my YouTube channel here and you'll never miss a new PlanetJune video. 🙂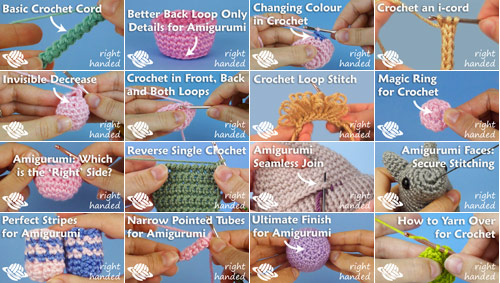 Your Video Requests?
I already have a long list of tutorials I'd like to make, but I'd also like to hear your video requests. Are there any crochet techniques I use in my patterns that I haven't explained on video yet and you'd like to see? Let me know by email, or in the comments below, and I'll make note of all your requests.
I hope you'll enjoy my crochet videos – both the library of existing tutorials, and the new videos to come!