I'm very excited to announce that I'll be launching two beautiful new plant designs coming soon, to add to my potted plant crochet pattern collection! What are they? You'll have to wait until next week to find out… 😉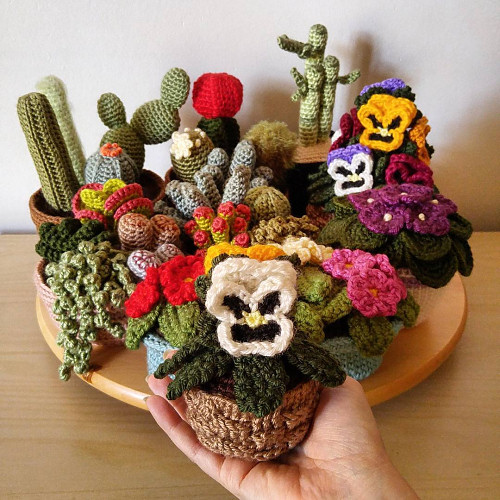 I need a new crocheted plant display – there's no room to add the new pots here!
And what better way to celebrate the new designs than with a crochet-along (CAL)? You've probably seen my cactus patterns being shared over social media lately – my crochet plants are more popular than ever, and this is a great time to try making your first PlanetJune potted plant, or to add to your collection!
As an added bonus, register for the CAL now (in the PlanetJune Ravelry group) and I'll private message you with an exclusive discount code that you can use against either (or both!) of my two new plant pattern collections when they launch next week!
The BotaniCAL crochet-along is suitable for all levels of crocheter – if you're intimidated to make a whole potted plant, you can get your feet wet first by trying a smaller project: one of my 13 popular flower and fruit designs. These are available online for free (or pay-what-you-want for the PDF version) so everyone can join in, no matter your skill level or financial situation. Just look at all your options: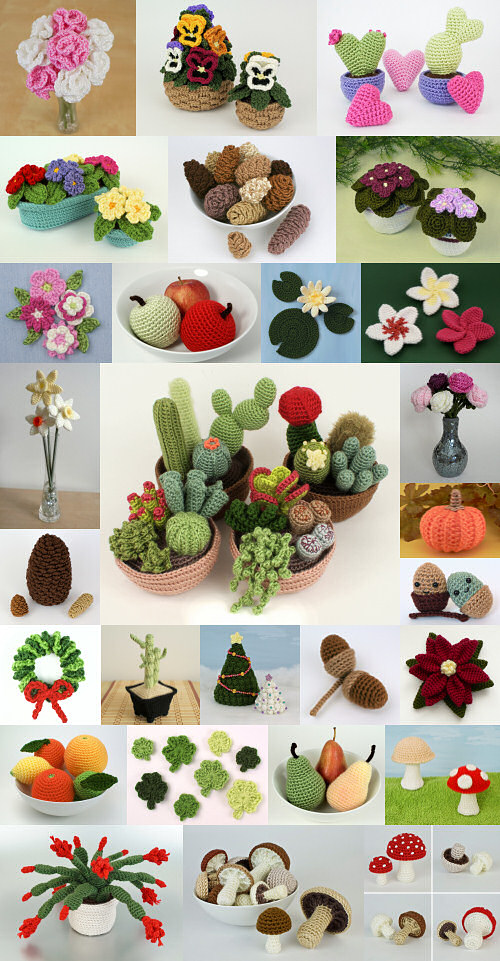 Which would you like to make first?!
The goal of this CAL is to build a virtual collection of as many PlanetJune plants, flowers and fruits as we can, and brighten the world with cheerful, colourful crochet projects. The BotaniCAL runs all the way through to the end of June, so you'll have plenty of time to complete your project – or even make several lovely new plants!
Make them to keep, make them to gift, make them to sell – it's up to you! PlanetJune crocheted plants (and flowers and fruit) are unique and beautiful. The potted plants make a wonderful gift or desk decoration because they're lifesize and realistic, plus they never need watering, never stop blooming, and never die 😉
It's easy to join a PlanetJune CAL – just click through to the CAL thread, post a message to say you're joining, pick a PlanetJune plant, fruit or flower pattern, and get crocheting! Ask questions and share progress photos along the way, enjoy seeing what everyone else is making, and we'll all cheer you along and admire your project once you finish it.
If you're new to Ravelry, you'll also need to create a free Ravelry account first, and join the PlanetJune group. You can find instructions for all of that (plus joining the CAL and posting your projects) in the PlanetJune Crochet-Along FAQ.
I hope you'll join in this CAL and crochet beautiful BotaniCALs to share with us and brighten your day! Click through to the PJ Ravelry group right now and register for the CAL by leaving a comment, and you'll get your exclusive discount on my new potted plant collections (in your Ravelry private messages) as soon as they're released!