This is your last chance to shop from the PlanetJune Crochet Tools shop before it closes forever…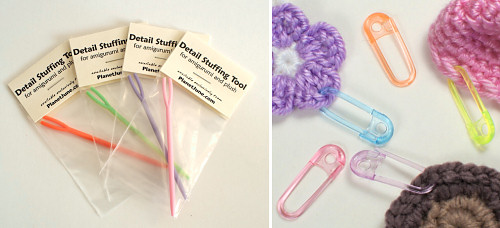 I'm selling off my remaining stock of Detail Stuffing Tools and Stitch Markers for Crochet with deep discounts if you buy multiples of the same item – I recommend you get some spares, as they are so easy to misplace, and the discount will help offset your shipping costs:
10% off when you buy 1
20% off when you buy 2
30% off when you buy 3
40% off when you buy 4
50% off when you buy 5 or more
The discounts are automatically applied – just select the quantity you'd like and add the item to your cart, and you'll see the lower prices there.
This is also your last chance to grab a free signed bookmark! Tell me who to sign it to and add it to your tools order at no additional cost.
I'll be closing the Crochet Tools shop at the end of April, or sooner if everything sells out before then, so please don't wait if you want to place one last order of Stuffing Tools and Stitch Markers before they're gone forever. I only have a hundred or so of each item left, and, once I send out my next newsletter, this message will reach many thousands of people, so they may sell out quickly…
Click through to the Crochet Tools shop to place your order now. 🙂

---
As I like to run PlanetJune transparently, I'll also share the reasons why I made the decision to close my Crochet Tools shop. Keep reading if you want the behind-the-scenes view!
In January, Canada Post eliminated their Light Packet option for international shipping, meaning that the lowest price to ship a small packet out of Canada is now about $6 (USD) to the US, and about $8.50 internationally (and those prices are much higher if you want tracking and insurance).
I investigated alternatives to make that cost more reasonable for my customers, and found that I could cross the border to mail my packages from the US at far lower rates, or pay a reshipping service to do that for me.
If selling my tools was the focus of my business and I had hundreds of orders per week, something along those lines could be a good solution. But the crochet tools are just a tiny sideline for me – the money I make from them only represents a fraction of one percent of my income. I'd lose money if I tried to reship in small quantities, or I'd have to raise my prices to compensate.
So, the only remaining option is to pass the new high Canada Post shipping costs onto my customers. They're far too high for most of my customers to be happy to pay, so I made some estimates of how many sales I'd lose as a result of the increased shipping cost. Based on these, my best guess is that I'd make only approx 1-2 orders per week in future. The cost of time and fuel to make the trip to the post office every week, just to ship a single low-value order, would leave me making a loss on every order unless I raised my prices significantly, and, again, I don't want to do that.
The upshot is that there's no way for me to run my Crochet Tools shop any more without losing money, and so the only sensible business decision is to close it down. But I didn't want to leave anyone in the lurch, hence the closing-down sale as a last chance for anyone who hasn't got around to buying their tools from me yet!
I love my crochet tools line. They're cute and colourful, and so useful. I'm keeping a dozen spare stuffing tools for myself, because I don't know what I'd do without one – I've tested all kinds of alternatives and I've found nothing that even comes close for stuffing small amigurumi pieces.
But nothing lasts forever, and my crochet tool shop has had a good run. This decision will be a good thing for PlanetJune in the long term – further simplifying and streamlining the business will leave me with more time to concentrate on innovating with new designs, and creating new tutorials to help you perfect your crochet technique.
So, please click through to my Crochet Tools shop now and grab any tools you need before it's too late! I don't want you to miss out…