I'm so excited to share my latest designs with you – I've been working on them for months and they're finally ready. Announcing: Succulent Collections 3 & 4!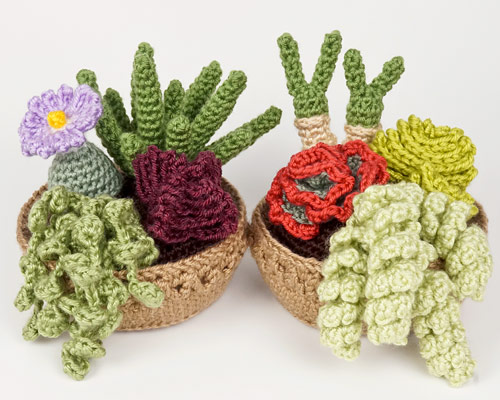 Since I published my Cactus Collections 1 & 2 (in 2010) and Succulent Collections 1 & 2 (in 2012) they've never dropped out of my bestseller lists. My potted plants are unique and popular – they've been featured in home decor magazines as well as crochet publications – and make a wonderful gift or desk decoration because they're lifesize and realistic, plus they never need watering, never stop blooming, and never die!
I've had the idea for a few years now to develop more succulent patterns and, at the start of 2018, while I was living in an empty house waiting for my furniture (and yarn) to rejoin me from Africa, I took the opportunity to delve into succulent research.
I searched through over 500 succulent species to find different, interesting, and crochetable ideas. Once I had my crochet supplies back, I developed prototypes for 15 species, which I finally narrowed down to these two gorgeous new collections of four: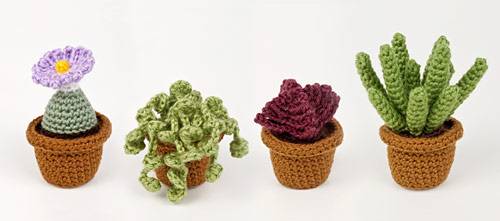 Succulent Collection 3, L-R: Conophytum Burgeri 'Burger's Onion'; Peperomia 'Trailing Jade'; Crassula Capitella 'Red Pagoda'; Aloe Vera 'Medicine Plant'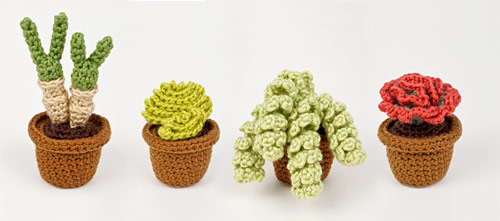 Succulent Collection 4, L-R: Monilaria Moniliformis 'Bunny Succulent'; Callisia Navicularis 'Chain Plant'; Sedum Burrito 'Burro's Tail'; Echeveria 'Mauna Loa'
I've developed some clever new techniques for you to enjoy with these patterns, and I've come up with some easy construction methods to minimise the sewing and finishing. I think you'll have fun making these!
Here's a gallery so you can click in and see each of the new succulents in more detail:
One of my challenges, now I have so many potted plant patterns, is to come up with an original design for the pot each time, and I'm delighted with the new pot for these collections. I made it to resemble stoneware pottery, with a striking textured zigzag decoration that you crochet as you go (it's easier than it looks, and I've included bonus right- and left-handed step-by-step tutorials for it as appendices to both the new patterns) and I think it's one of my favourite pots to date. I hope you'll love it too.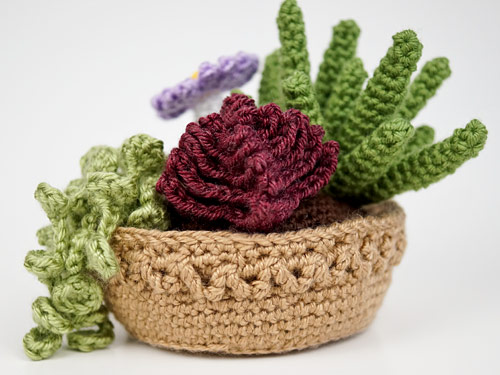 Mix and Match
And here's the best part: all the new designs are completely interchangeable with all my other Cactus and Succulent Collection patterns!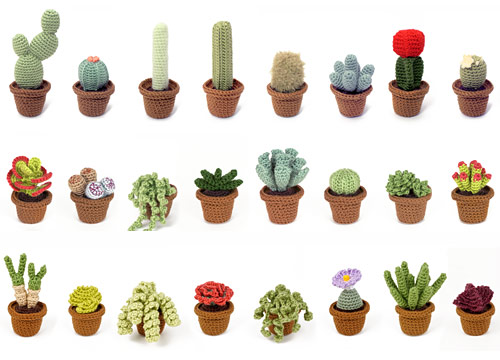 Now you can choose between 24 different plants for your next cactus/succulent garden, and you know they'll all look good together! Just grab a few shades of green (or red, orange, purple, grey… google 'succulents' to look for colour inspiration!) and a hook and you'll be ready to get started.
Crochet-Along (and Save!)
As with my other plant collections, you can save several dollars when you buy both collections in the set together. But you can save even more if you join the BotaniCAL crochet-along (CAL) in my PlanetJune group on Ravelry: just leave a message in the BotaniCAL thread saying you'd like to join the CAL, and I'll private message you with an exclusive discount code that you can use against either or both of the new Succulent Collection patterns!
Find out more about the BotaniCAL here. I hope you'll join us in crocheting PlanetJune plant, flower and fruit patterns over the next couple of months 🙂
Handy Links to the Patterns
Don't forget to join the CAL and get your discount for the new patterns!
Heart and queue them on Ravelry:
And you can find all my other cactus and succulent patterns here!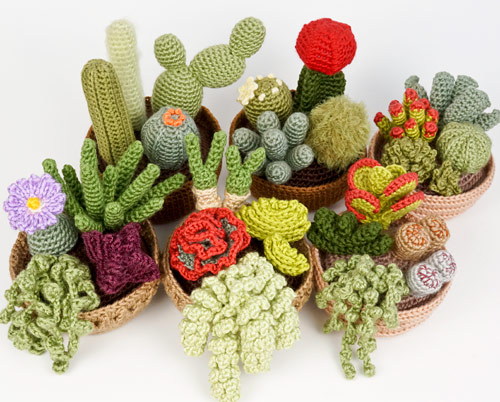 Back, L-R: Cactus Collection 2, Cactus Collection 1, Succulent Collection 1
Front, L-R: Succulent Collection 3, Succulent Collection 4, Succulent Collection 2
It's been a long process to get to this point, but I'm so happy with the new additions to my collection of crocheted cacti and succulents, and I hope you will be too!
Please leave me a comment if you love them, and I hope to see you in the BotaniCAL soon 🙂