Today I have a new fast and lovely donationware pattern for you: it's my Crochet Plant Hanger!
The free version of this pattern is sized to match the small plant pots from my Cactus and Succulent Collection patterns, and you can use this pattern to make hangers for both your small crocheted potted plants and for real (approx 2″ diameter) plant pots.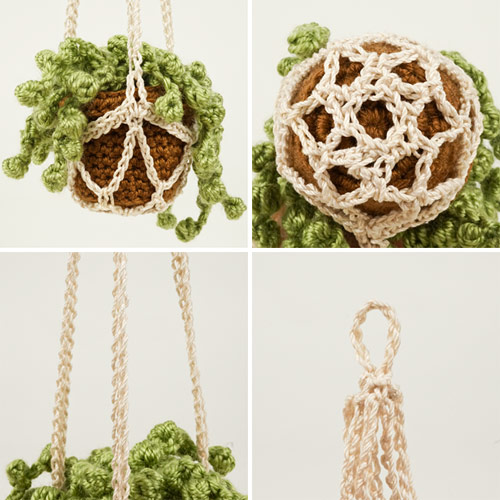 But I didn't stop with just one size of plant hanger…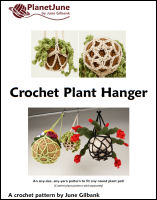 The PDF version, available for any size donation, includes additional tips, three options for the hanging loop, and any-size modifications for this pattern, so you can make a plant hanger to fit any diameter and height of round pot, using any yarn and any hook. 
You don't need to take any measurements in advance – just hold your work up to the pot as you go, and you can custom-fit it as you crochet (much easier than it sounds!)
I really appreciate those of you who choose to donate for my donationware patterns (whether it's a $2 or $20+ donation – every dollar counts). I'd have stopped creating 'free' patterns many years ago if not for your generous donations that support the creation of future donationware patterns and make it worth my while to keep creating them!
So, to show my appreciation, I give added value to the PDF version wherever I can, and in this case, it means you get a versatile pattern that you can use with any size and height of round plant pot, for real and crocheted plants!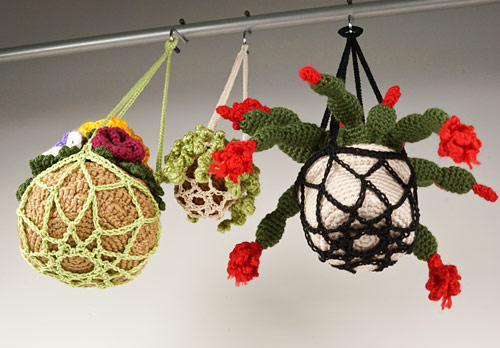 Just look at how pretty that star-shaped base is on the larger sizes! That's my favourite part of my design… 🙂
Links to the Pattern(s):
Go to the free small Crochet Plant Hanger pattern >>
Or jump straight to donate:
Pay what you want for the any-size Crochet Plant Hanger pattern >>
And if you need some crocheted plants to display in your hangers, I have you covered:
Check out the PlanetJune Potted Plant crochet patterns >>
(The plants pictured above are my Pansies, String of Pearls (from Succulent Collection 2) and Christmas Cactus.)
Not ready to make a plant hanger yet? Add it to your Ravelry queue:
PS – Don't forget to share your plant hangers – for crocheted or real potted plants! – in the PlanetJune BotaniCAL on Ravelry 🙂