I just realised that, quite by accident, I seem to have developed a Christmas crafting tradition of making poinsettias.
In 2006, I made a kanzashi poinsettia: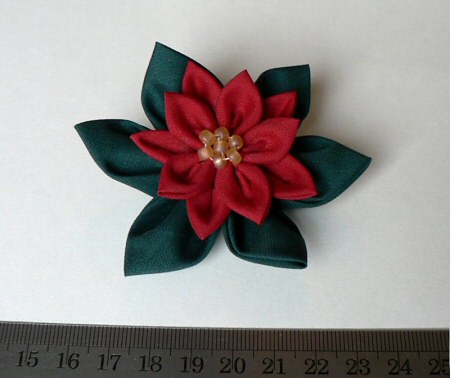 In 2007, I designed the famous crocheted poinsettia: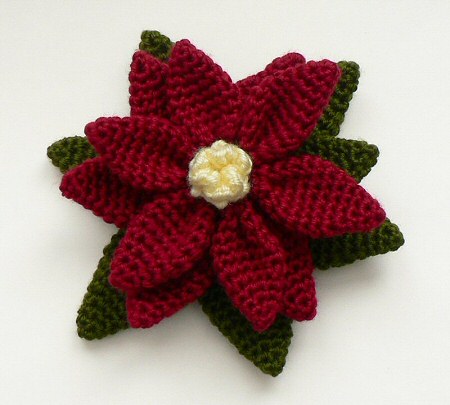 Who am I to break with tradition, even if it's one I invented myself? So allow me to present the 2008 PlanetJune Poinsettia. This year I've gone for a polymer clay (FIMO) variety! It's just over 2″ (5cm) in diameter, and would make a lovely pin or fridge magnet, or just a pretty decoration.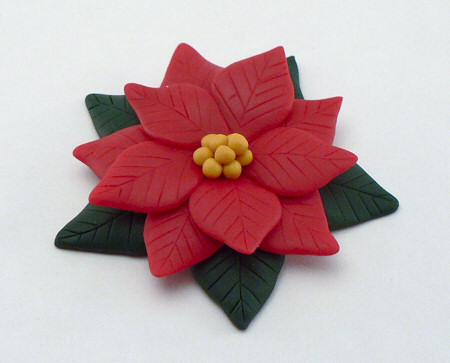 If you'd like to try making one, I've put together a tutorial for you so you can give it a go. The good news is that it's much easier than it looks! There's no precision involved; in fact, the leaves actually look better if they aren't all exactly the same size and shape. As the instructions are quite long (I've included lots of pictures to make it easy to follow), I've given the tutorial a page of its own: Polymer Clay Poinsettia Tutorial.
This is my first polymer clay tutorial, so I hope it'll all be clear. Please leave me a comment if you like it! And would you like to see more PC tutorials in future? Let me know in the comments!