There's a little story behind this Expansion Pack. When I originally came up with the idea for Mini Mammals, I had 6 species planned. I didn't think anyone would want a huge set of six, though, so I chose Sengi, Jerboa and Mouse for my set, but as soon as I released the pattern, I had requests for all of the other three I'd left out!
Now, if that's not a sign, I don't know what is…
So here's Mini Mammals 2: an Expansion Pack for my Mini Mammals pattern. It includes all the modifications you need to convert your Mini Mammals into a Hamster, Gerbil or Kangaroo Rat.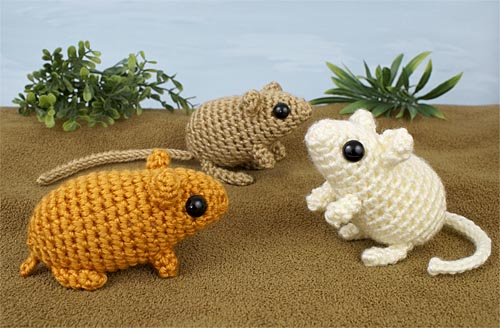 Meet the newest Mini Mammals!
Hamster: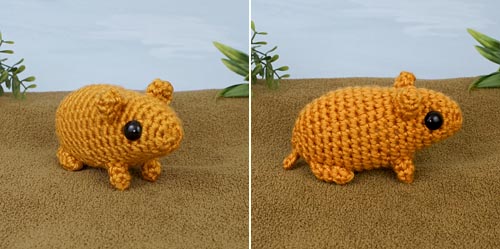 Hamsters are crepuscular seed-eating rodents (crepuscular means they are most active around dawn and dusk).
There are many species of hamster, but the most common domesticated type is the Syrian (Golden) Hamster.
Hamsters hoard food and have expandable cheek pouches inside their mouths so they can carry food to store.
Wild Syrian Hamsters hibernate during the winter, but pet hamsters won't hibernate (unless they get too cold!)
Gerbil: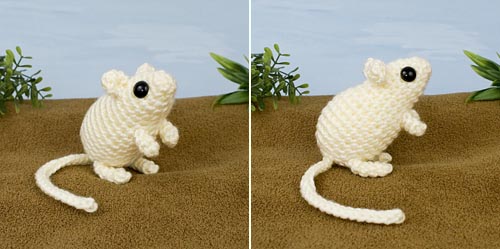 Gerbils are burrowing seed-eating rodents from the deserts of Asia and Africa.
There are over 100 species of gerbil, but the most common domesticated type is the Mongolian Gerbil.
Gerbils are highly social animals and need to be kept in pairs or groups.
They are diurnal (active in the daytime) and love to dig tunnels.
Kangaroo Rat: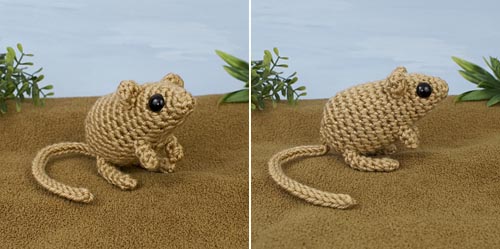 Kangaroo Rats are seed-eating rodents from the deserts of North America.
Like Jerboas, they hop along on their long back legs, using their long tails for balance.
They get all the moisture they need from seeds, and can survive without drinking any water.
Kangaroo Rats harvest seeds by collecting them in their pouches and storing them in caches for times when there is no other food available.
Unlike Hamsters, though, Kangaroo Rat cheek pouches are fur-lined and are located outside their mouths!
What is an Expansion Pack?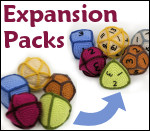 An Expansion Pack is an add-on to an existing PlanetJune pattern.
The Expansion Pack lets you modify or add to the original pattern to create something else.
You cannot use the Expansion Pack alone – you must also purchase the original pattern in order to be able to complete the pictured items in the Expansion Pack pattern.
You can buy the Mini Mammals 2 Expansion Pack for only $3.50 individually from the shop, or, if you haven't yet bought the original Mini Mammals pattern, you can buy the multipack of both sets, and save 50c on the pair.
Launch Discount
If you've already bought the original Mini Mammals set, you won't be able to save that 50c. But, for 7 days only, add the Mini Mammals 2 Expansion Pack pattern to your shopping cart, together with anything else (totalling $5 or more), then use the code SQUEAK at checkout and you'll still get your discount! (Valid until next Wednesday: 22nd March 2017.)
Note: If you don't need anything else right now, this also applies to Gift Certificate purchases, so you can pick up a $5 gift certificate now, get your discount, and have $5 in your PlanetJune account ready for your next purchase, or to send to a crocheting friend!
---
Aww, a family portrait! Don't they look super-cute all together like this?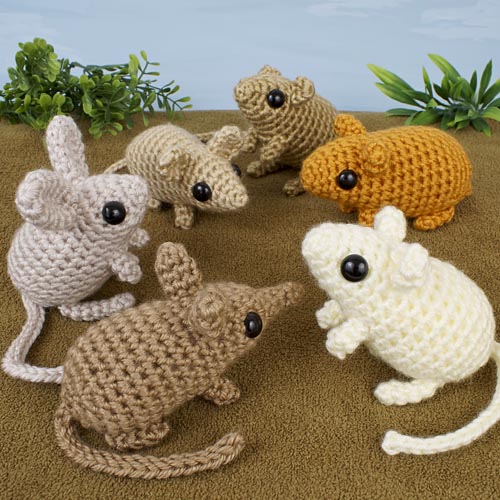 Clockwise from bottom left: Sengi, Jerboa, Mouse, Kangaroo Rat, Hamster, Gerbil
If you're not ready to buy just yet, please remember to heart or queue them on Ravelry so you don't forget about them!
Mini Mammals:
Mini Mammals 2: