After I completed my Orca pattern, my designing brain felt a bit tired – all those colour changes make for a fabulous-looking whale, but if you think it's a bit fiddly crocheting the colour changes, try designing them at the same time – it's 10 times more difficult, and quite a brain-bender to get size, shape and colour all working together at once! So, before I jumped into the next commission (Red Panda – awww!) I needed a little palate cleanser: a design with no colour changes, so I could concentrate on my favourite part: the shaping.
I wanted to make something truly original, and I've been watching Once Upon a Time so I had fairy tales on the brain. I thought a magic lamp would make a fun toy for kids wanting to play Aladdin and the Genie, and an elegant decorative piece for anyone else! So I set out to create a beautifully-shaped life-sized magic lamp, and here's the result: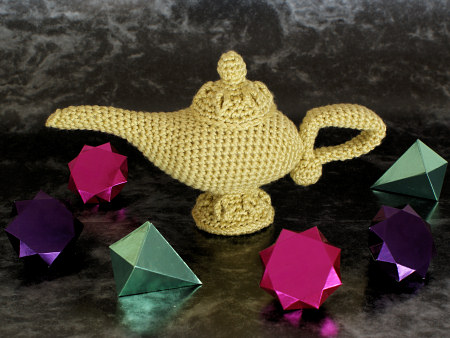 Fun Fact time: I'd always wondered why Aladdin's magic lamp is called a 'lamp' when it really looks more like a metal teapot. In case you're wondering too, this is an ancient type of oil lamp. The oil was poured in through the lid at the top, and a wick inserted through the nozzle (that's the bit that'd be the spout if it were a teapot). The oil is drawn up through the wick and the flame burns at the tip of the nozzle when you light it. So there you go!
I've designed a decorative raised diamond pattern for the lid and base of the lamp (and I've developed a new technique for creating these details without leaving big spaces around the taller stitches that will gape when the pieces are stuffed). I think they add something special to the design; I hope you agree!

I spent a happy evening making the paper gemstones for these photos 🙂
These details are slightly trickier than your standard "all single crochet, all the time" amigurumi, but the additional crochet stitches are fully explained, and I've documented the entire process of creating the diamonds with step by step photos, for both right- and left-handers (in separate appendices, so you can save ink by printing only the page you need, or neither!)
But if you're still daunted by the diamonds, I've also given an option in the pattern for a simplified lid and base. The undecorated pieces omit the diamonds, but still have exactly the same shaping as the standard lid and base, so your lamp will still look elegant and shapely.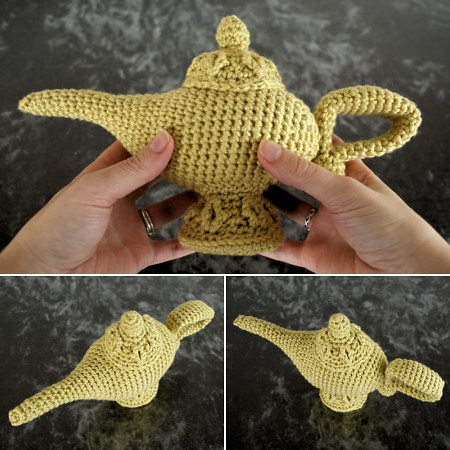 I designed this lamp while I was stuck with no internet for 2 weeks last month. As I crocheted it, I wished that my internet connection would be restored, and lo! it was! Maybe your Magic Lamp will grant your wishes too… While I can't promise that, it will, at the very least, be something interesting and different to crochet 😀
If you'd like to make a lamp of your own, you can find the Magic Lamp crochet pattern in my shop right now! If you're not ready to get started, how about a little ravelry love? Click to favourite or queue my Magic Lamp design:
So tell me: do you like my magic lamp design? I really hope you do! It's always nerve-wracking to come up with something so unusual – I really can't predict ahead of time if it'll be wildly successful or a massive flop…