You may remember this finger-crocheted infinity scarf I made as part of my ruffle yarn review: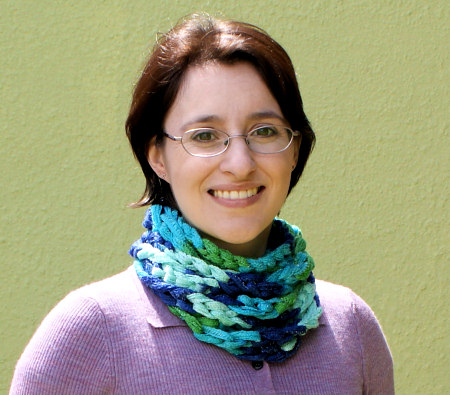 Finger crocheted cowl (12 wraps of giant chain stitches)
Although I made it just for fun, I quite liked the result, and almost wanted to wear it. Wrapping an ultra-skinny scarf 12 times around my neck felt a bit stupid though, so I unravelled it and came up with another fun use for the yarn: I used my own crocheted i-cord tutorial (which, incidentally, was my first ever video tutorial!) to make a finger-crocheted i-cord scarf: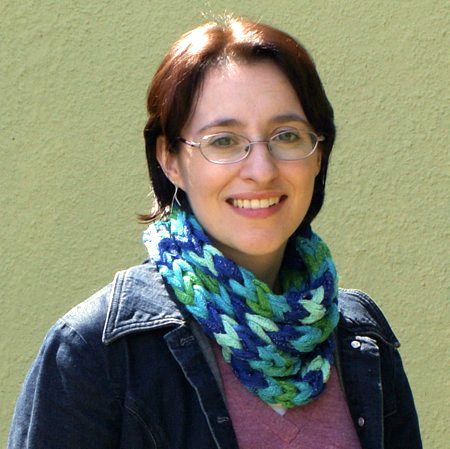 I-cord infinity scarf (4 chunky wraps of i-cord)
The great thing about i-cord is it makes a round braid instead of a flat chain – it's thicker and stronger than a chain. For knitters, you can just knit i-cord on dpns, but, if you don't knit, you might like to try crocheting an i-cord too. There are lots of things you can use i-cord for: in amigurumi-making, as a trim, to make drawstrings or tiebacks, as bag handles, to coil into a mat, etc, etc…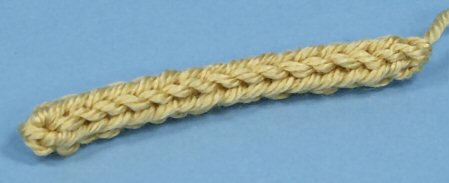 It was easy to make my i-cord scarf – I used my index finger as a giant crochet hook and otherwise followed my tutorial exactly. And the colour changes of the yarn worked out well: by coincidence, they matched up almost perfectly with the length of one row, so each row is a different colour: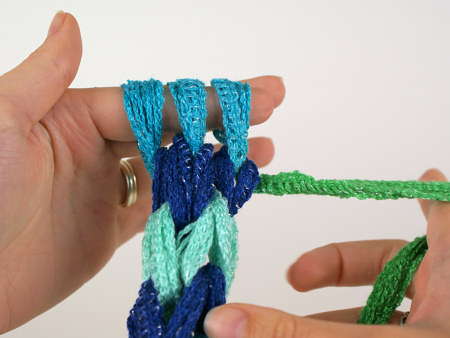 My finger is the 'hook' – I'm left-handed, remember!
My finger was a bit tired after finger-crocheting the entire skein of yarn into i-cord, but I'm happy with the resulting scarf. As each row of i-cord is essentially 3 chains arranged together into a circle, it reduced the length of my scarf from 12 skinny wraps around my neck to 4 chunky ones. It was fun to make, and who knows, I may even wear this version out of the house…