It's all go for me at the moment: we have to renew our visas so we can stay in South Africa, and we're applying for permanent residency too. As much as I'd like PlanetJune to be my top priority at all times, I have to renew my passport from abroad, get police clearances from various countries, get X-rays and medical reports, liaise with a lawyer, and all the rest of the rigamarole that goes along with immigration stuff. That's all quite stressful and time-consuming – bureaucracy here is never fast, cheap or easy – but I have to believe it will, eventually, all get sorted out.
As a result, you may notice I'm also a little quieter on social media at the moment – I don't want to be that person who tweets about every trial and tribulation, so that means there may be days/weeks where I have nothing to say. If I'm quiet, just assume I'm still working hard, dividing my time between my business and all this other stuff, and inching closer to the point where this new stress is nothing more than a memory and I'm free to devote 100% of my attention to PlanetJune again!
Review and Win contest
March's 'Review and Win' winner is Susan S, with her review of my Sea Otter: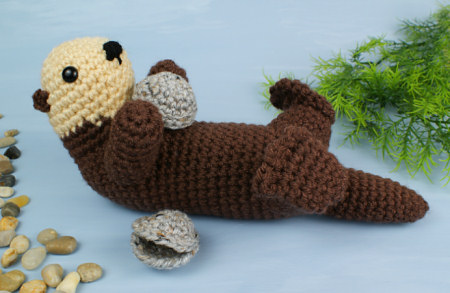 Made the sea otter and his clam shells recently, and everyone who sees him is amazed. Has far more personality and is more "realistic" than other sea otter patterns I considered. The pattern is clear and easy to follow, and contains excellent tips.
Congrats Susan – I'll email you to find out which pattern you'd like as your prize 🙂
Forgotten Gems CAL
Every month, in my monthly newsletter, I give a discount code for a 'Forgotten Gem' of a pattern – one that, for some reason, hasn't enjoyed as much popularity as it deserves. All 17 of the previously featured Forgotten Gems patterns are included in the April crochet-along, so there's a lot of variety including both amigurumi and accessories: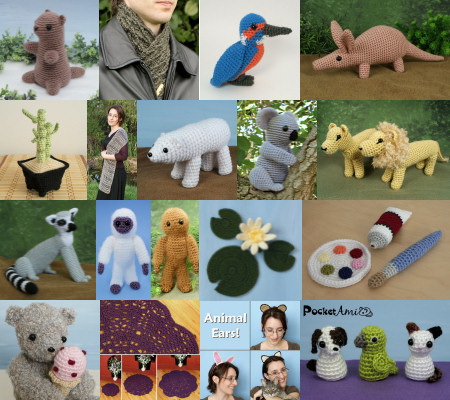 From the chatter in the CAL thread, it seems like the Chunky Elegance Rug Trio and Aardvark patterns are going to be popular CAL choices this month! If you'd like to join in too, we'd love to welcome you in the PlanetJune group on Ravelry.