My first marsupial design is here, and it's a koala!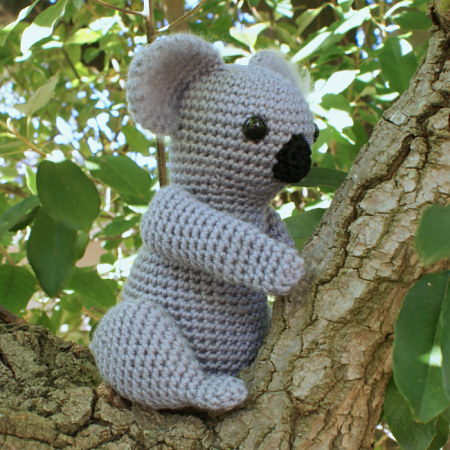 Koala was the first fully-pledged design using my new commissions process, and I'd like to say a big thank you to everyone who trusted my design ability enough to pledge towards this design! I hope I've met (or exceeded!) your expectations 🙂
I thought I pretty much knew what a koala looked like before I started my design. It was only once I started researching, though, that I realised why every toy koala I've seen before has looked wrong, somehow: they all have flat faces and only the black nose sticks out from the face. It turns out that, viewed in profile, koalas have quite pointy faces, with the nose at the tip, so that became a part of my design challenge…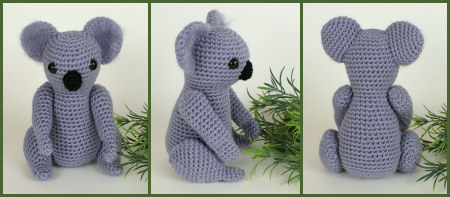 Between the shaped legs, the poseable arms, the one-piece head and body, and the pointy face, I set the bar pretty high and it took longer than I was expecting to get everything right. Even when everything looked good in pieces, once I started to stitch it all together I had to make several more changes until I really felt like I'd got it all right. But, finally, I looked at it, and yes, it had all clicked into place to give me a koala that's (I think) a perfect blend of realistic and cute.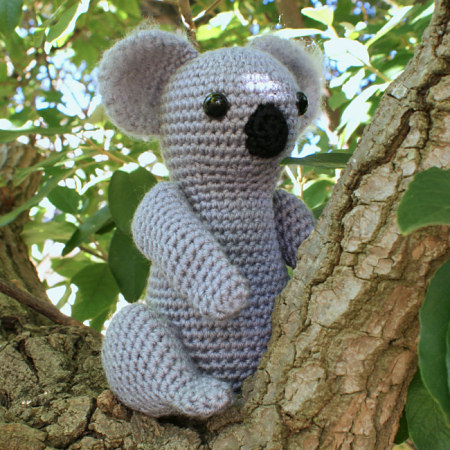 The koala is a nice sturdy 7″ tall and his arms are poseable at the shoulders. (Although I didn't do this with mine, if yours will be a toy for a child you could add some velcro or a press stud to his hands so they can grasp together and he can cling onto things – I think that would be really cute!)
I hope you'll enjoy making the koala too – there are some pretty clever shaping tricks in this pattern, so I think you'll have fun seeing it take shape under your hook. But don't be scared – it's no more complicated than any of my other patterns, and I have 23 step-by-step assembly photos so your koala will turn out absolutely perfectly too!
You can pick up the Koala pattern right now from my shop – with a special launch discount for this week only! If you're not quite ready to buy though, how about queuing Koala on ravelry so you don't forget about it?
Pattern Survey: When you look at the Koala pattern, you may notice that it looks a little different to all my other patterns: I've updated the layout to have less wasted space and to include the new PlanetJune logo. I've also taken this opportunity to add some more useful details (finished size, US/UK stitch conversions, and more) that haven't previously been included in my patterns. Before I launch into the massive undertaking of updating my other 100+ patterns to include the new layout and added info, I wonder if you wouldn't mind letting me know if there's anything else you'd like to see in my patterns, so I can make all the improvements at once?
If you can spare a minute to help me this week, please compare the Koala pattern PDF with any of my other (non-donationware) pattern PDFs, and then fill in this 1-minute survey to let me know what you think. I want my patterns to be as good as possible, so this is your chance to tell me if there's anything I could improve! Thanks for your time – I really appreciate it.
A little note about pledging: now the koala is complete, I'm ready to start designing the next commission to be fully pledged! But, I currently have 15(!) other designs in various stages of progress (don't even ask how that happened…) so I have plenty to keep me busy until that happens! If there's another design on the commissions list that you'd like to pledge towards, that would be great, but there will be new PlanetJune patterns coming, either way – I'm keeping the non-commissioned ones as surprises until they're finished 🙂