It may be April 1st, but there's no fooling here – just my usual news update…
Pocket-Along CAL
The top-voted theme for April's Crochet-Along was a Pocket-Along! This will include all my pocket-sized patterns (PocketAmi Sets 1-6, Mop Top Mascots, Tiny Whale) or, if you're feeling adventurous, try miniaturizing any of my regular-sized patterns with a smaller hook and finer yarn.

This is a great theme for those of you with busy lives and not much free time to crochet: as the PocketAmi are so small, they work up far more quickly than my other designs. Come join the tiny ami fun at the Pocket-Along thread in the PlanetJune Ravelry group!
Easter CAL
With a week remaining until Easter, there's still plenty of time to crochet a set of stylish decorative Easter Eggs or the cutest Baby Bunnies you'll ever see! Here's a sampling of some of the adorable bunnies that have already been made for the CAL, in case you need a little more temptation: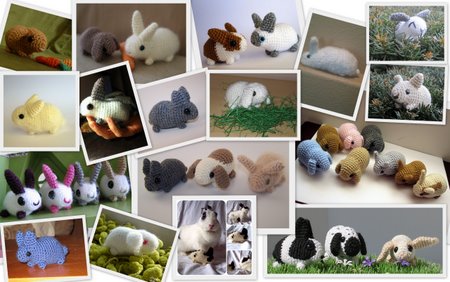 Awwww! I'll show you full-sized photos of these and more, with credit to the crocheters, in the CAL roundup next Sunday.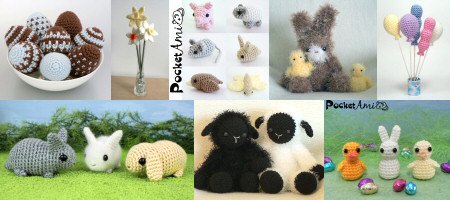 Don't forget to share your bunnies, eggs, and more in the PlanetJune Ravelry group so I can include your pics in the Easter CAL roundup 🙂
Review and Win contest
March's 'Review and Win' winner is Hannah B, with her Detail Stuffing Tool review: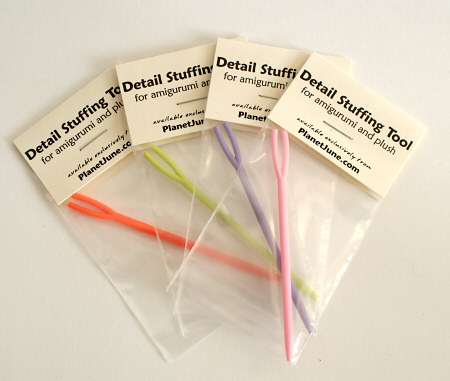 Best. Tool. Ever. Don't know how I stuffed before it. It's so easy to use and it works incredibly.
Congrats Hannah – I'll email you to find out which pattern you'd like as your prize 🙂
(By the way, if you haven't bought your Detail Stuffing Tool yet, remember you can also pick one up as part of my Amigurumi Essentials Kit, together with a set of stitch markers for crochet and a selection of safety eyes.)
To be entered into this month's draw for a free pattern of your choice, just write a review of any product in my shop – thank you!
New Designs…
My koala, the first design commissioned through the new pledging process is now complete, and he's the most realistic koala I've ever seen. (If you follow the PlanetJune Facebook page you'll have already seen a sneak peek photo!) My next task is to finish editing all the photos and complete the pattern. I hope to have the pattern finished and up in the shop in the next couple of days. Thank you to everyone who pledged for this design – making a koala has been on my list for years, but I probably wouldn't have ever got around to doing it without the commission!
I wonder which design will be fully pledged next..? Platypus and Sea Otter are the current front-runners, but several others are catching up, and I have no idea who'll end up reaching the finish line first. So far, I think this new commissions model has been a great success; the only animals I've put on the list are ones that I know I'll be happy to design, so it's fun to watch the race and wonder which animal I'll be designing next!