Yes, you read it right, this is a post about knitting – who'd have guessed!
I've tried, and failed, to enjoy knitting before. I bought straight needles and hated them. I bought dpns and hated them. It always seemed like such a struggle to wrangle the yarn without a handy hook with which to grab it. But, thanks to my practice with knooking, I now understand the shape of knitted (and purled) stitches, and how they fit together. I've done a lot of theoretical learning – reading books, watching videos – and I finally hit on a way to make it all work for me! Here's the June magic formula:
Circular needles: so much easier to keep hold of than those long pointy sticks. I took a chance and ordered some from KnitPicks before I moved out of shipping range, but didn't have a chance to play with them for many months after that.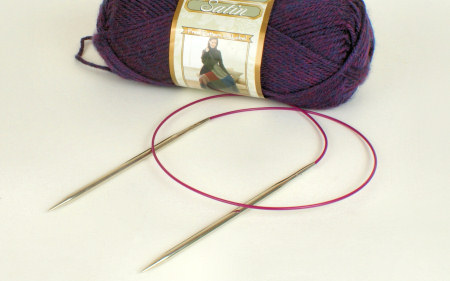 Knitting right-handed: I'm left-handed, and I crochet left-handed. But you knit with both your hands, so why shouldn't I learn the 'standard' right-handed way and save having to reverse instructions later so they work for a leftie?
English (throwing) style: this is the magic part for me, as a crocheter. Because I'm left-handed, I hold my crochet hook in my left hand, and tension my yarn with my right hand. By knitting right-handed, English style, I can still tension my yarn with my right hand – something I have years of experience with!
Magic loop: This technique makes so much sense to me. Working on one circular needle with a flexible cable instead of constantly switching between DPNs: yes. This is good.
So, with my strategy in place, I tried putting the theory into practice. I don't like making test pieces, so I decided to make my knitting practice piece into something useful: wristwarmers. Even if they looked awful, they'd come in handy in my unheated house once summer ends.
I made up my own pattern, because that's just how I like to work. Long tail CO 34, knit in the round with magic loop until the thumb, bind off 6 for the thumbhole, next round backwards loop CO 6 to go over the top of the thumb, continue working until long enough, stretchy bind-off. Easy.
(Don't I sound like I've been doing this for years?! Never underestimate the power of research.)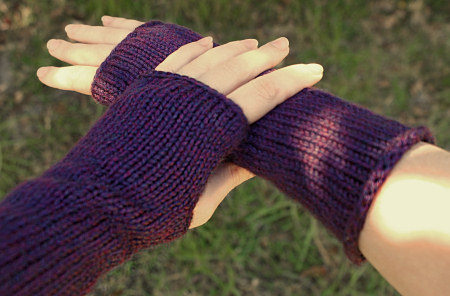 I love how they turned out! My tension is pretty even for a first attempt, and that's thanks to using the same hand I always use for tensioning. There are slight ladders at the bottom of the first wristwarmer, before I figured out how to keep the tension even when switching the needles for the magic loop, but I love that too – every time I wear these wristwarmers it'll show me 'this is when I learnt to knit'.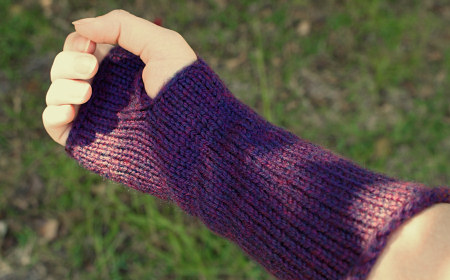 I used 4.5mm KnitPicks nickel needle tips with a 32″ cable. The yarn is Bernat Satin in the gorgeous Plum Mist Heather colourway – a very dark purple tinged with red, and pretty much impossible to photograph – if my skin tone looks off here, that's why! (Indoors, they photographed as almost black.)
I can already tell I'm going to get a lot of use out of these. There's no central heating in our house and my hands get very cold when I'm working. These will be perfect to wear while I work – I'm wearing them as I type this and they aren't impeding me at all: success!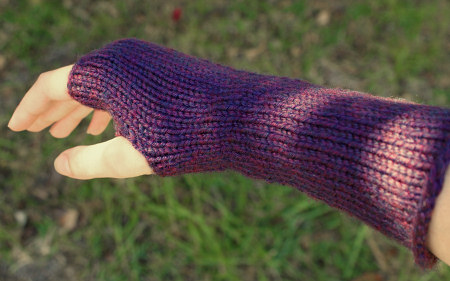 I was all fired up after finishing these, and decided to order some larger needle tips so I could try something a little more ambitious. My LYS actually carries the same brand of needles (although outside N America they are known as KnitPro, not KnitPicks – isn't that strange?!), and told me he could probably get them within 1-3 weeks. That was in November, and they just came in last week; I can confirm that the concept of 'Africa time' is no myth – it's taken 3.5 months for my needle tips to arrive!
I haven't picked up the needles in the meantime, so I expect I've now forgotten everything I briefly knew about knitting and will have to re-learn it all again before I attempt progressing to anything more complicated. It may be a while before you see another knitted project from me…