Today's PlanetJune Story is from Monica Ballinger of Greencastle, IN, whose work you'll probably recognise if you follow my crochetalong roundups (and maybe more so if I mention her ravelry username, theMarkofSMB). Here's a little sampling of some of Monica's PlanetJune-designed creations: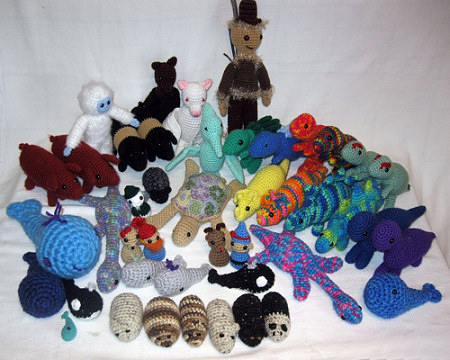 How many PlanetJune designs can you spot? (The scarecrow is based on the 'Boy' pattern from my book!)
Monica writes:
I first learned about PlanetJune when I received The Complete Idiot's Guide to Amigurumi as a gift. After reading it a couple times, I started my first amigurumi, the Hamster. The first one was a bit off, due to my own fault in miscounting (he's much fatter than the others but still cute); however, the second one was much better! I made several for my children to play with and they loved them; they even ask me to make more whenever I get a new shade of brown yarn. Having June's book has broadened my knowledge in amigurumi and crochet techniques that I use for any project I start. I am always going back thru her book to refresh my memory and find new ideas for specific items; it's a great book to have for any crochet toy or project!

A few months later I started searching for dinosaur patterns because my children thought they didn't have enough dinosaur toys. As I only crochet and don't knit, I was starting to feel sad at not being able to find a crochet dinosaur pattern, but I finally found the perfect one, PlanetJune's Stegosaurus. I bought all 6 patterns (at that time) and started working right away, and I fell in love with June's patterns instantly! June's clearly written, easy to follow instructions with detailed tips and pictures make her patterns worth every cent. June even offers assistance for any part of the pattern that may be confusing, by email or with her Ravelry group. The finished products turned out amazing; the dinosaurs were all so very realistic that I was HOOKED on PlanetJune. I plan to have all of June's patterns one day, but at the moment my sons get to pick their favorites, which become my favorites as well! My three favorite patterns are Yeti/Bigfoot, Sea Turtle and Stegosaurus, but I love them all.

I'm an artist: drawings, photography, crafts, crochet accessories (hats, scarves, blankets) and amigurumi. I have participated in a few craft fairs over the years, and my husband suggested that I sell some of my amigurumi toys as well. After reading June's policy on selling finished objects from her patterns, I fell in love with her work all over again: extremely wonderful patterns, beautiful finished items and I could sell them! I even made some business cards to attach to the toys giving June credit as the designer. While making a few extra amigurumi of June's designs I opened up an Etsy shop, Magical Amigurumi, in the hopes of sharing the joy of the toys and making a little extra pattern funding 🙂

I enjoy crocheting because it's relaxing and I love the joy it brings to children (including my own) when they get their new toy! I have even seen adults thrilled to have their very own toy (or collectible): I made a Realistic Pig for one of my uncles, as he and his daughters raise pigs for 4H, and he loved it so much; my other uncle received a Fruit Bat because he goes caving a lot and has been helping researchers with the white-nose syndrome that the bats have contracted; and I made a Bigfoot and added a bag for a wookie for my Father-in-law and it stands on his computer! I've made Apples and Tiny Whales for my son's preschool class, and the teacher enjoyed receiving them as much as the children enjoyed playing with them.

Thank you June for designing such wonderful realistic amigurumi. They have brought a ton of joy to my house!
And thank you for sharing your story, Monica! I often wonder what happens to amigurumi that have been crocheted from my patterns, so it's lovely to hear this story of patterns thoughtfully selected to be meaningful to each recipient, and to know the finished amigurumi are appreciated and treasured by their new owners. Monica has kindly shared photos of all the amigurumi she mentioned: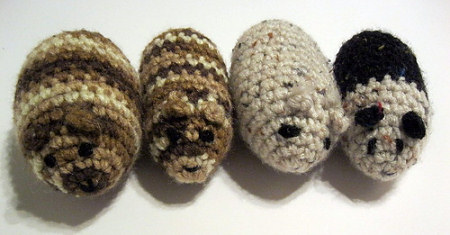 The first amigurumi Hamsters (from my book)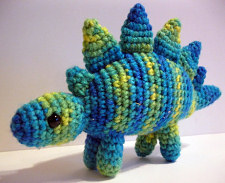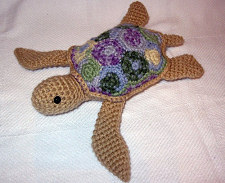 Monica's favourites: Stegosaurus and Sea Turtle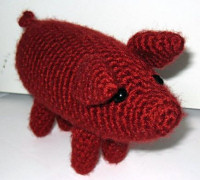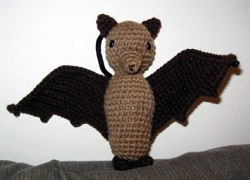 Gifts for uncles: Farmyard Pig and Fruit Bat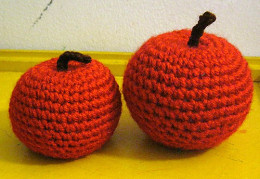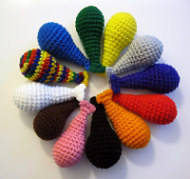 Apples and a set of Tiny Whales for preschoolers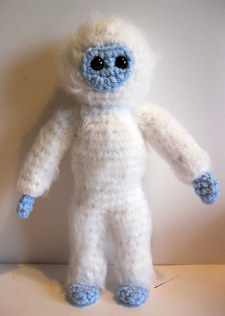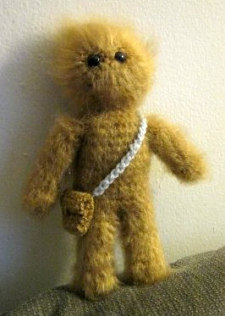 Yeti and Bigfoot (aka Wookie!)

Aren't they all wonderful? Please leave Monica a comment if you've enjoyed this post, or visit Magical Amigurumi if you're tempted to pick up an amigurumi for a special gift, or as a treat for yourself!
Do you have a PlanetJune Story you'd like to share? I'd love to hear it! Please email your story to june@planetjune.com, together with one or more high quality photos showing what you've made from PlanetJune patterns. If I choose your story to feature here on the blog, I'll send you your choice of pattern from my shop to say thank you!