I recently started using a facial toner, and suddenly I was throwing out more cotton pads in a week than I usually use in a year! I try to minimise the amount of trash I generate, and, as the bathroom bin started to fill, I decided this had to stop. Enter my new free crochet pattern: washable, re-useable Eco-Friendly Cosmetic Rounds.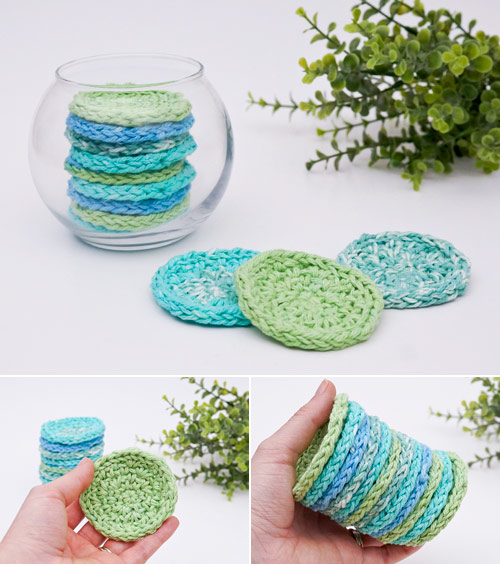 Use these washable rounds anywhere you'd use a disposable cotton round or facial wipe – for cleansing, toning, or removing makeup – and save money while helping the environment! They crochet up in minutes, take very little yarn, and make a pretty and practical gift.
Eco-Friendly Cosmetic Rounds are easy to clean – simply toss the used pads into a mesh laundry bag or a drawstring bag and run them through your washer and dryer with your laundry.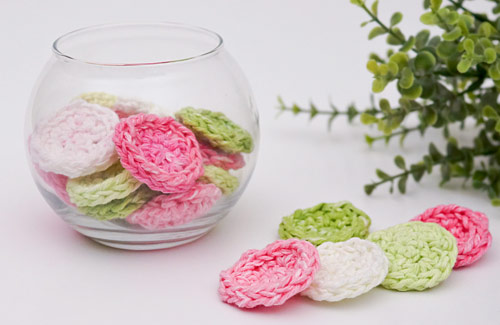 As I like to reward people who choose to donate for my donationware patterns, the PDF version of the Eco-Friendly Cosmetic Rounds pattern also includes the bonus pattern for the Mini size (pictured above; I find this size is perfect for applying my toner!) and additional instructional photos and tips, including left-handed photos. As always, the pattern for the Standard size is free for you to use, and you need only donate if you'd like to thank me for my time in creating it, or if you'd like the easy-to-print PDF version with the bonuses.
Go to the free Eco-Friendly Cosmetic Rounds pattern >>
Or jump straight to donate:
Order the Eco-Friendly Cosmetic Rounds pattern >>
Not ready to make them yet? Add this pattern to your Ravelry queue:
I hope you'll find this pattern useful! And every step we can make towards helping the environment by reducing waste is a step in the right direction, no matter how small.