My next few crochet video tutorials will be in response to customer requests. If there are other crochet techniques you'd like me to cover in future videos, please leave a comment below, or email me (june@planetjune.com) with your suggestions!
If you've ever lost your place while crocheting in a spiral, or discovered that you must have made a mistake many rounds earlier, I highly recommend you use a stitch marker to mark the start of every round while you crochet your amigurumi! But how do you go about doing that? How does it help you avoid mistakes, and what do you do if you realise you've made one?
Or, if your pattern directs you to mark a specific stitch while you crochet, how exactly do you do that?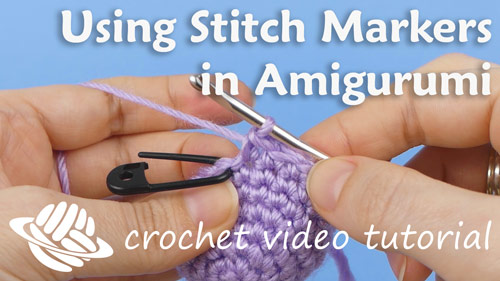 In my latest video, I'll walk you through everything you need to know about using a stitch marker with amigurumi (or any other crochet worked in a continuous spiral), including:
How to mark the first stitch of the round
How to fix a mistake
How to mark a specific stitch
As always, the video is available in right-handed and left-handed versions.
This video is ideal for amigurumi beginners, but I recommend you watch it even if you've been making amigurumi for years – you may still pick up a tip or two!
Go to the Using Stitch Markers in Amigurumi video tutorial >>