I'd like to introduce you to a new Canadian indie yarn hand-dyer, Cheyenne Brammah of Incyanity!
Cheyenne is a long-term customer of mine and she sent me some test skeins of her hand-dyed yarn for my feedback before she launched her shop. But, as always, the following is based on my honest opinions, and I've been waiting for the launch so I could tell you how much I enjoyed these yarns!
Cheyenne has a great eye for colour, and choosing her palettes from her own nature photography is inspired – each shade tells a colour story, illustrated by the beautiful photos. Just look at these stunning yarn/photo combos in the lush launch colourways: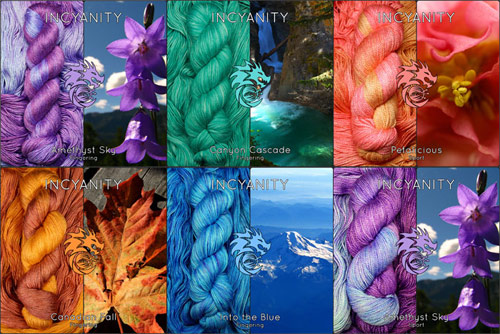 I always appreciate bringing inspiration from the natural world into my designs, and looking at these yarns together with their inspiration photos makes my heart happy.
My Experience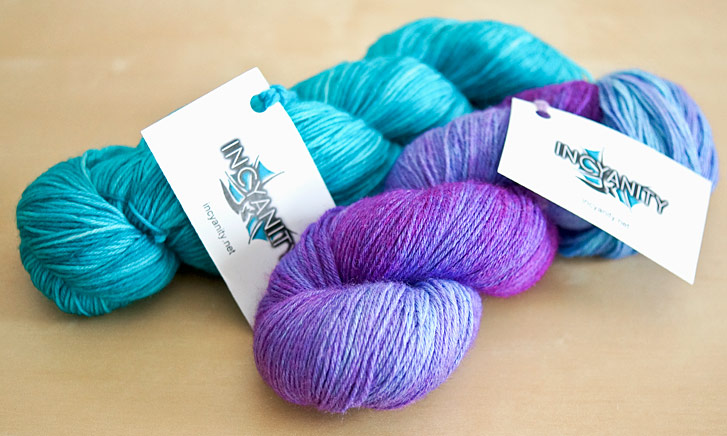 Incyanity yarns come in 100g hanks, and are dyed onto high quality bases (currently merino/silk, merino/nylon and merino/bamboo are available). I chose a merino/nylon (teal) and a merino/silk (purple) to test, both in fingering weight – the perfect weight for crocheted shawls!
My yarn was securely packaged and arrived in perfect condition. They looked lovely in the hanks, and even more stunning once I'd wound them into cakes. This is some seriously pretty yarn…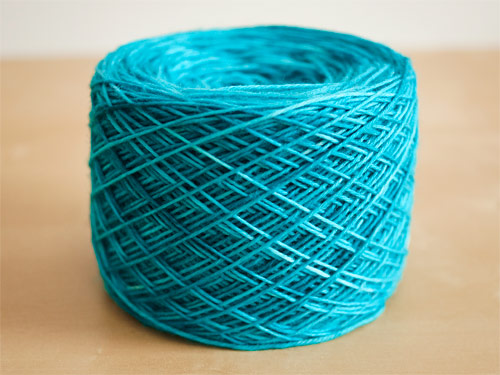 The tonal teal is a lovely shade. It's just varied enough to provide some fun tonal changes while you crochet, but not so busy to distract from a beautiful stitch pattern in the finished piece.
Note: This shade is a preview of an upcoming colourway. It's bluer than the Canyon Cascade colourway, but otherwise similar in the tonal variation.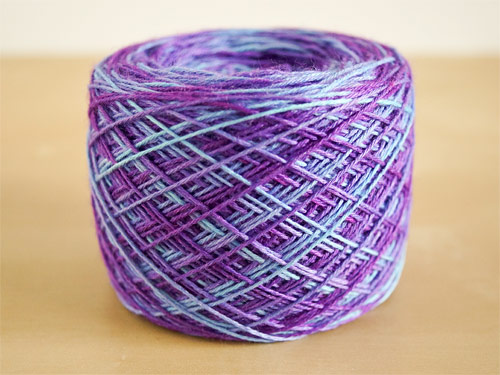 The variegated Amethyst Sky is gorgeous in the skein and absolutely stunning after being wound. Just look at those rich purples tempered with icy blue – this colour scheme could have been designed just for me!
Note: The yarn base felt very nice to me, but Cheyenne wasn't satisfied with the softness or sheen, and she has since found a vastly superior base for her Incyanity silk blend yarns. You can see how much more pronounced the sheen is now by comparing the same yarn in the shop with the photos of my test skein 🙂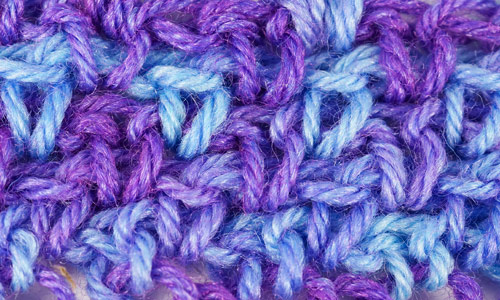 It can be a challenge to find the right stitch pattern for a very variegated yarn in crochet, so I tested it out with this linen stitch swatch to see how the colours would play together. Very pretty! I can definitely see this as a lovely hat or cowl. But, in the end, I chose an unfussy lace stitch pattern for this skein (see my shawl below!), and I think the result is beautiful like this too.
Verdict
I really enjoyed working with both yarns. They felt soft and bouncy, they didn't split at all while crocheting, the yarn colours didn't fade at all after soaking (a very important test!), and both blocked out beautifully.
And I think the results speak for themselves – the two shawls I made from my yarn are just gorgeous in these rich colours: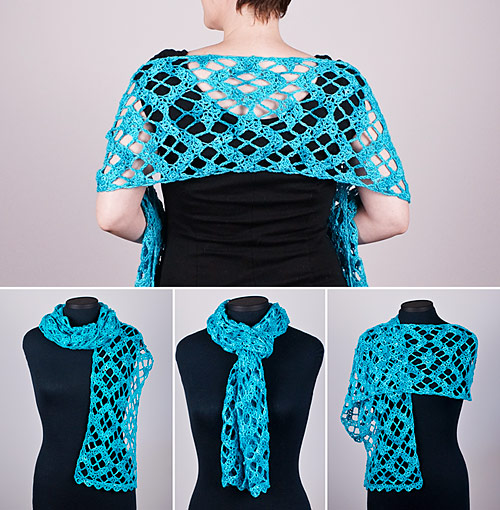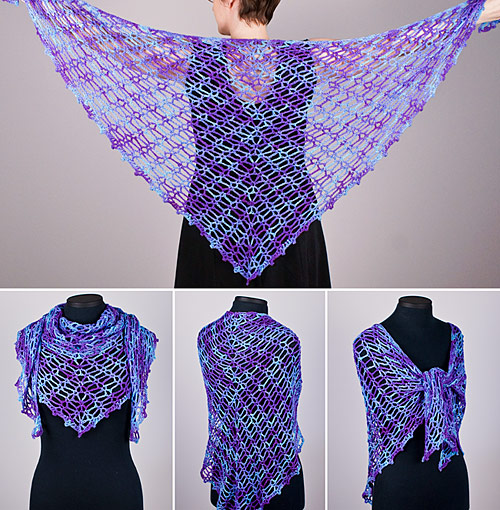 Left: Diamond Lace Wrap; Right: Sweetheart Lace Shawl
If you're looking for a high-quality, stunningly-coloured, nature-inspired hand-dyed yarn to elevate your next crochet or knit project, I recommend you check out Incyanity 🙂