If you, like me, tend to spend a little too much time on your phone, you're going to love my new pattern!
I use my phone for so many things these days – working, reading, playing games, video chats, shopping, watching videos – and it gets uncomfortable to hold after a while. To save my hands, I thought it'd be fun to try to recreate the old phone stand I sewed almost a decade ago, but this time in crochet, with dimensions better suited to today's larger devices.
And look what I came up with! Crochet is the perfect medium for a stand like this: one piece, no sewing, basic stitches and techniques, and it makes a perfect support for a smartphone: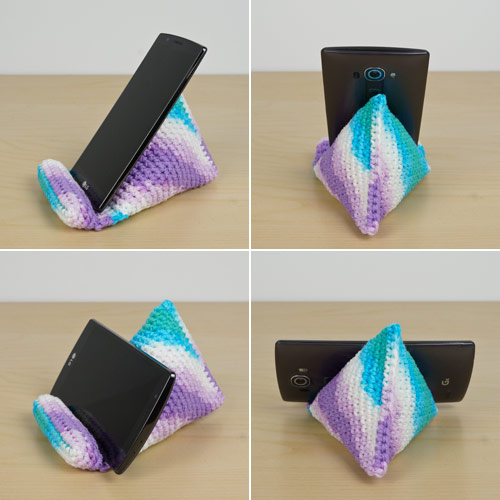 Isn't it great?! it's quick and easy to crochet, and makes a handy addition to any desk or bedside table. With only yarn and a little stuffing, you can make a stand that's sturdy enough to support any phone (or a small tablet) in portrait or landscape mode.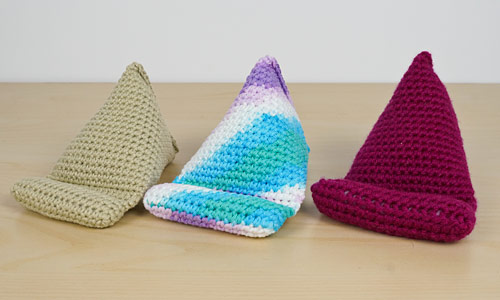 This pattern is a blank canvas for any yarn choice: get colourful with a variegated yarn, go for a subtle neutral shade, choose your favourite colour, or match your room decor.
I especially love how my variegated phone stand turned out: the colours pooled into diagonal stripes, and because either side of the stand can be the top, I can flip it over to get a different colour pattern!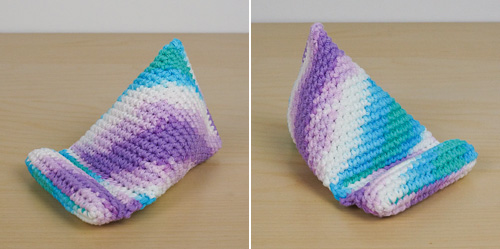 I'd recommend using a cotton yarn for your phone stand as it gives a neat smooth finish, but you can use acrylic if you prefer. This is a great pattern to use those striped or ombre cottons that look lovely in the skein but may not crochet up the way you'd expect! (In case you were about to ask, the specific yarn I used for the above sample is Bernat Handicrafter Cotton Stripes in Beach Ball Blue.)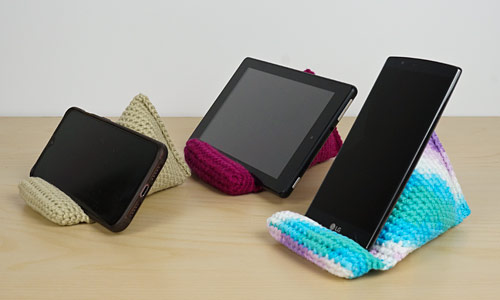 Amigurumi-style crochet gives this stand enough stiffness to support a mobile device with just regular fibrefill stuffing, which also makes the stand light and portable. You can even comfortably rest it on your tummy so you can watch videos while lying in bed, if you're so inclined…
As you can see below, the phone stand is also big enough to support my 7″ tablet, which is very handy for video calls or watching YouTube!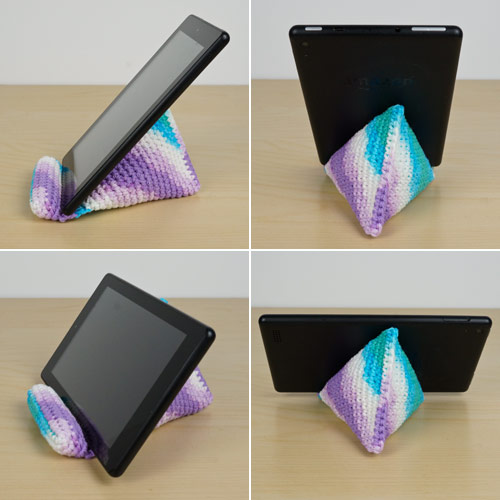 As I like to reward people who choose to donate for my donationware patterns, the PDF version of the Crochet Phone Stand pattern also includes tips for stuffing, additional instructional photos, including left-handed photos, and instructions for resizing the pattern to fit a larger tablet or other device. As always, the pattern is free for you to use online, and you need only donate if you'd like to thank me for my time in creating it, or if you'd like the easy-to-print PDF version with the bonuses.
Go to the free Crochet Phone Stand pattern >>
Or jump straight to donate:
Order the Crochet Phone Stand pattern >>
Not ready to make one yet? Add this pattern to your Ravelry queue:
I hope you'll find this pattern useful!