I'm so busy these days that I rarely have any time for non-business-related crafting. In fact, I haven't made anything just for fun since Christmas (and I haven't yet had a chance to show you that project either!)
We took two much-needed days off at the end of last week, and I finally had a chance to make something just for me. I first saw this idea on Pinterest 40(!) weeks ago and it's taken me until now to find the time to make it: a little beanbag stand for my BlackBerry so I can prop it up at my desk. It's a really simple, neat design, and quick to sew.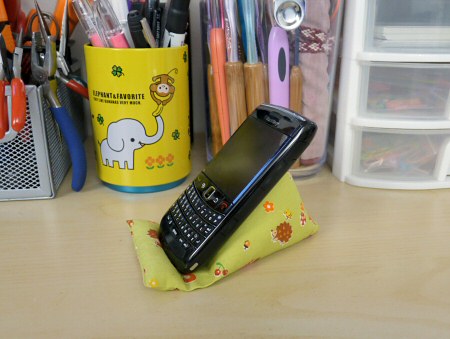 My pin linked to a finished handmade item for sale on Etsy. Now, copying someone else's design is one of those grey areas, and as I've talked about it before (from the point of view of the designer being copied) I thought I'd address that aspect quickly: this is a one-off stand for my personal use (not for profit), and a quick Etsy search for "iPhone stand" revealed that at least 4 other sellers are making stands made using the same design (so it's a non-exclusive design).
The shape is very simple and it's obvious from a glance how to make one: it's just a pyramid beanbag with a little ledge at the front to support the phone, so I'm comfortable that it was fair for me to make this one for myself. Still, it's not my design, and I didn't refine the concept or invent any special techniques to make this, so please don't ask me for a tutorial or any tips on how I made mine – I'm not going to profit from someone else's idea!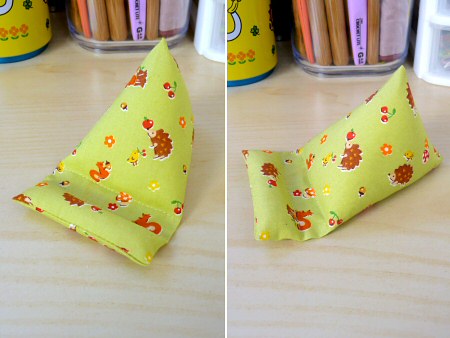 In South Africa, many craft supplies are difficult (or impossible) to find, so I'm reusing and upcycling wherever I can – I'll be showing you more of those projects as and when I finish them! I'm hoarding my supply of plastic stuffing pellets for future amigurumi designs, so I didn't want to use them up on this project. Instead, I went to a thrift store and found this poor sad little toy dog. I could feel that the body was stuffed with plastic pellets, so R3 (less than 50c) later, I had a carefully unpicked seam and a big bowl of plastic pellets. Despite my justifications and my careful toy surgery, I still feel like a soft toy murderer, but I really don't think anyone would have bought this dog for a child to play with as it's so stained and dirty, so at least I've given it some kind of new use.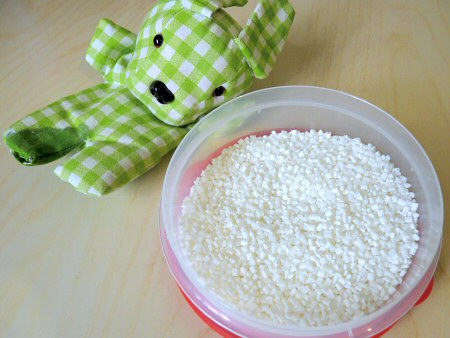 It took forever to stuff it pellet by pellet (I only left a small opening, but the larger pellets kept getting stuck in the funnel I'd planned to use for the stuffing…) and I probably should have used a heavier-weight fabric too, but I love the result. I used some of the leftover fabric from my One Yard Wonders designs and it's so nice to finally get to see the adorable Japanese fabric in use on a project!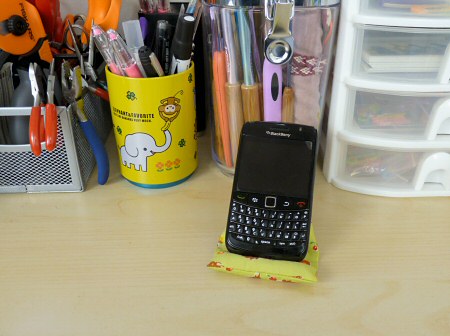 It's a shame the print doesn't really show when the phone is in the stand, but now the little hedgehogs and squirrels can make me smile every time I pick up the phone and see the print that was hidden beneath it.
I definitely need to make time for more non-work projects. This was so much fun – I'd almost forgotten how much I enjoy just making stuff. Now I feel refreshed and ready for another busy week 🙂