Finally! 2 months after I announced my new logo, I've finally launched the new blog layout today. (If you're reading this in a feed reader, please click through to get the full impact!)
Hopefully this won't look too new and strange to you; the purpose of this redesign wasn't to give my blog a new look, but to make it easier for you to use, and to incorporate the new logo.
Here's the old look, as a quick reminder: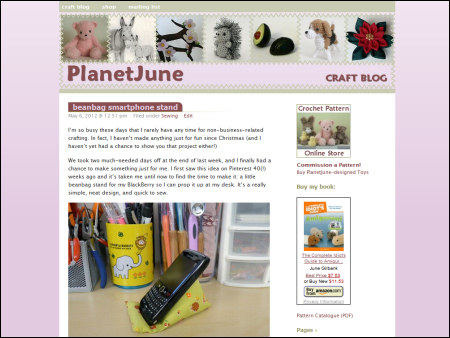 And here's the new and improved version: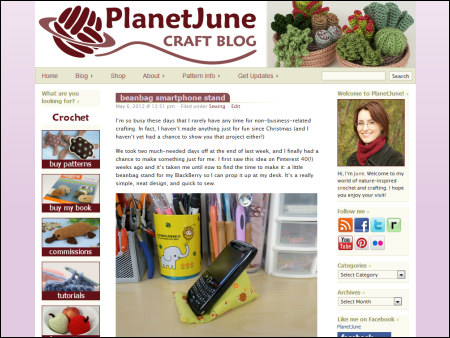 The new layout is slightly wider, which gave me space to add an extra sidebar down the left-hand side with quick links to the things people most often look for on my site. The actual sidebar contents are still in progress – I'd like to add some more prominent links to my Ravelry group and Flickr group, a link to an as-yet unwritten page for my crocheted art, and other things as and when I think of them – but that can wait until I have time.
I think the biggest improvement is to the header area. Gone is the 'patchwork' of images at the top that confused people into thinking they were all pictures of crochet patterns:

Now there's just one large clear photo, but if you refresh the page (or click to a different page on the blog) you'll see that the image changes – you get a random one each time – so it hopefully still gives a feel for the variety of my patterns.

The almost-invisible main menu located above the header is gone (did you ever even notice it was there?!), and these impossible-to-find text links in the sidebar (I finally realised that a heading called 'Pages' means nothing to non-bloggers!):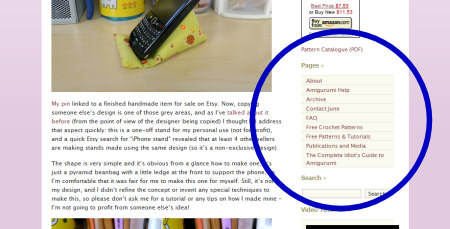 Ugh, big block of random text links (circled in blue)
All replaced by a more complete menu bar below the header. Everything you need to navigate my site is organised into drop-down menus, and there's a more prominent Search box on the right.

I still have to redo the rest of PlanetJune to match the new blog design and make it all more useable, but that'll take a lot longer – I'd anticipated I'd need 2 weeks to complete the blog redesign, and it's taken 2 months! I also need to figure out a better way to organise my crochet tutorials – now I have lots of photo tutorials and a growing collection of video tutorials, I'm going to need to find a clearer way to present them to you. Piece by piece, I'll keep working on it all in between everything else – my goal is to have it all completed by the end of the year.
But, for now, I hope you'll at least find the blog much easier to navigate! I've built up a lot of excellent resources on my blog (crochet and craft tutorials, free patterns, videos, etc), but they aren't much use if you can't find them 🙂