Just a few quick items this month, as, behind the scenes, I'm juggling over 20 designs in various stages of completion, and trying to get my blog redesign finished so I can finally use my new logo…
Wildlife-Along CAL
Choose from my menagerie of wild animal patterns to crochet and meet us in the PlanetJune Ravelry group for the Wildlife-Along crochet-along, running until the end of the month…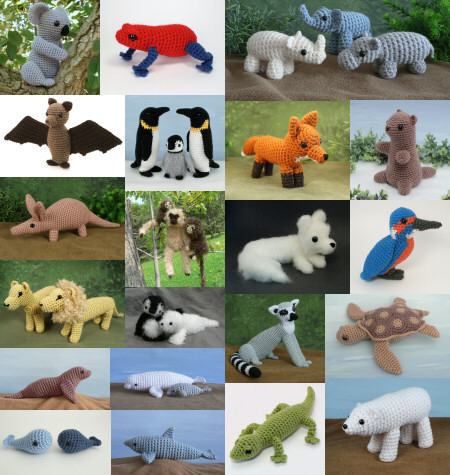 You'll find all the patterns – and a few more that didn't make it into the above collage – in the Wild Animals category of my shop. And if you're thinking "CAL? Huh?" or "What's Ravelry?", see the PlanetJune Crochet-Along FAQ for everything you need to know 🙂
With close to 100 new members in my Ravelry group over the past week (welcome to all of you!), I hope this CAL will be even better than usual!
Review and Win contest
April's 'Review and Win' winner is Erica A, with her Baby Bunnies review: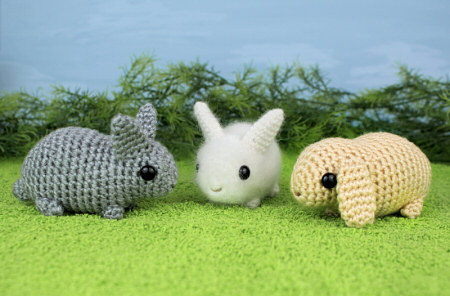 A very cute pattern that is enjoyable to make. The instructions are clear and detailed for both the crochet and the assembly. I love how the subtle shaping results in such a cute and realistic finished object. The three variations give added interest and value.
Congrats Erica – I'll email you to find out which pattern you'd like as your prize 🙂
To be entered into this month's draw for a free pattern of your choice, just write a review of any product in my shop – thank you!
Commissions
With 2 designs completed, the new commissions process is still going well.
I've added a couple of new options to replace the animals I've already designed, but I've had requests for many more. I've put up a poll on my Facebook page to find out if you'd prefer to have more choices, or if too many in the list at once would get confusing – please vote (or comment here if you don't use FB) if you have an opinion on that!