I somehow stumbled into a personal holiday tradition of crafting a different poinsettia every year. With the exception of my first poinsettia (because I was a novice blogger back then and the idea hadn't occurred to me, so I only have a quick guide that I wrote in the comments of that post) I have a full (free) pattern available for each of my holiday poinsettias – see the links below the pics if you'd like to make your own!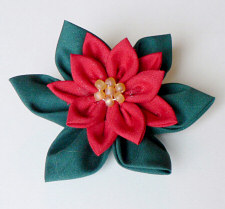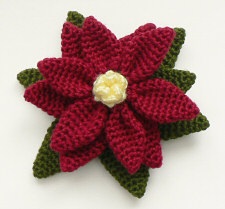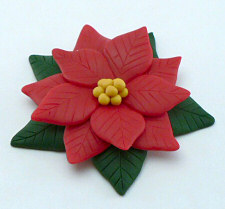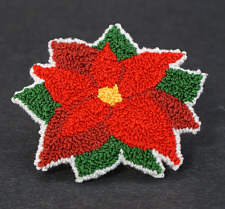 Top (L-R): 2006 kanzashi poinsettia; 2007 crocheted poinsettia 
Bottom (L-R) 2008 polymer clay poinsettia; 2009 punchneedle poinsettia
So similar, and yet each has its own style. I love this tradition I created! I wonder how long I can keep thinking of new poinsettias to add to the collection…
The 2010 PlanetJune Poinsettia is almost a return to that very first kanzashi poinsettia, but with a twist: to keep it fast and simple, it's made from felt. It would make a beautiful gift topper or table decoration, and you can increase the size to make it as big as you want – just cut the green squares slightly larger than the red, and you'll be fine!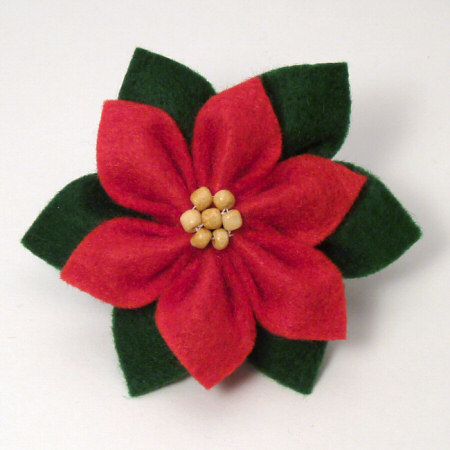 I had intended to make a fancy-schmancy version too, in purple and white, with embroidered petals and leaves, but you'll have to imagine how lovely that would have been (in my head, at least, it's stunningly beautiful) – sadly, it's already too close to Christmas and I just don't have any more time to spare. Maybe that can be my next year's holiday poinsettia 🙂
Anyway, I hope you'll enjoy my 2010 poinsettia design!