Update: The Scarf Sweater instructions, together with my Eyelet Ripple stitch pattern, are now available as a printable Donationware pattern. They are still available for free, but if you like them please consider sending me a donation to show your appreciation: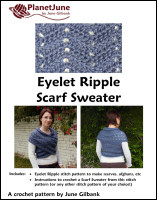 Send me a donation and receive the easy-to-print PDF version of the instructions and stitch pattern (with bonus assembly photos and instructions on how to wear it) as a thank you!

Donations of any size are much appreciated. Just add the amount you wish to donate, and, once you have checked out and paid, your pattern will instantly be available to download from your PlanetJune account.
The complete pattern and instructions are available below, regardless of whether or not you choose to pay for them 🙂
This is a PlanetJune original crochet pattern. Feel free to use items made from this pattern however you wish, but I'd appreciate credit as the pattern designer. Please do not reproduce the pattern anywhere else; instead post a link to www.planetjune.com/scarfsweater
Not ready to make it yet? Add it to your Ravelry queue:
***
Wow, I really didn't expect such a great response to my Scarf Sweater – I linked it up on Ravelry and over 60 people have queued it already! Of course, you can use any stitch pattern to make a scarf sweater, but I've been getting questions about the eyelet ripple stitch pattern I used, so I thought I'd share some info about ripples and the pattern for my eyelet ripple.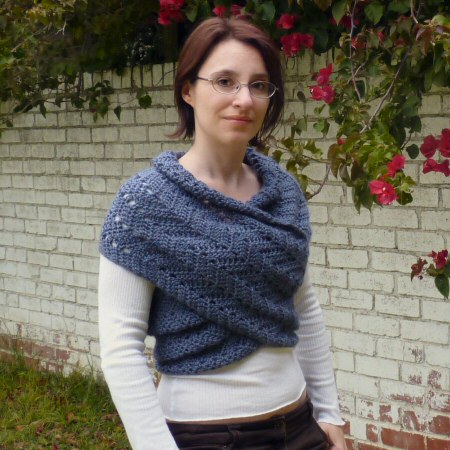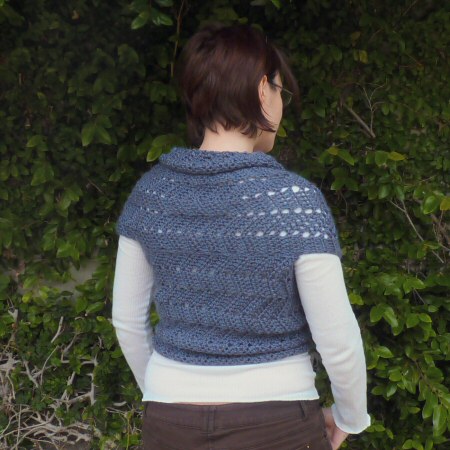 Ripple Basics
Ripple (aka chevron) patterns in crochet take 2 basic forms:
Solid Ripple: the peaks and valleys are formed by increases and decreases, giving a solid fabric with no holes
Eyelet Ripple: the peaks and valleys are formed by chains and skipped stitches, leaving a hole (an eyelet) at the point of each direction change
Note: these are my names for them; other people may call them by other names or not distinguish between the two types at all!
All ripples are formed by a section of straight stitches, a peak to change direction, another section of straight stitches, and then a valley to change direction again. This forms a zig-zag pattern. The number of stitches in the straight sections determines the width of the ripple, and the number of increases/decreases or chains/skipped stitches determines the angle of the ripple.
June's Eyelet Ripple Pattern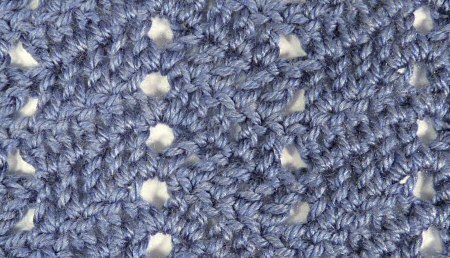 You can use this pattern to make a scarf, a blanket, or a scarf sweater like mine! This is a generic pattern, so you can make it any width you like. N is the number of repeats, not including the half repeat at each edge. So in the stitch diagram below, N=1 and the ripple has 2 complete zig-zags. (For my Scarf Sweater, I used N=3, so I had 4 zig-zags.)
Terminology
| | |
| --- | --- |
| ch | chain |
| ch-sp | chain space |
| dc | double crochet (treble crochet for UK/Aus) |
| st | stitch |
Pattern
Ch 12xN + 15.
Row 1: dc in 4th ch from hook (unworked chains count as dc), dc in next 4 ch, skip next 2 ch, (dc in next 5 ch, ch 2, dc in next 5 ch, skip next 2 ch) N times, dc in next 4 ch, 2 dc in last ch.
Row 2: ch 3 (counts as dc), dc in same st, dc in next 4 st, skip next 2 st, (dc in next 4 st, [dc, ch 2, dc] in next ch2-sp, dc in next 4 st, skip next 2 st) N times, dc in next 4 st, 2 dc in last st.
Repeat Row 2 until your piece is as long as you want.
Stitch Diagram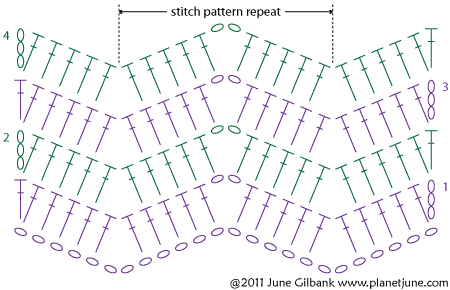 Scarf Sweater Joining
If you're making this into a scarf sweater, when you come to seam the two short ends together, you won't be stitching two straight lines; you'll be matching up the zig-zag shapes at the ends of the scarf, as shown below. If you stitch neatly, the zig-zag disguises the seam very nicely – I tried to find my seam so I could take a photo of it for you, and I can't actually find it!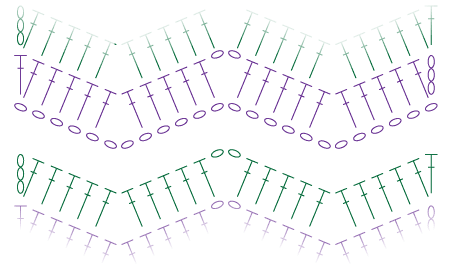 When you join the two layers across the back, do take a moment to make sure you continue the zig-zag pattern across both layers, to make the seam less visible. You won't get the eyelets along the seam, but at least the zig-zags can flow down across both layers.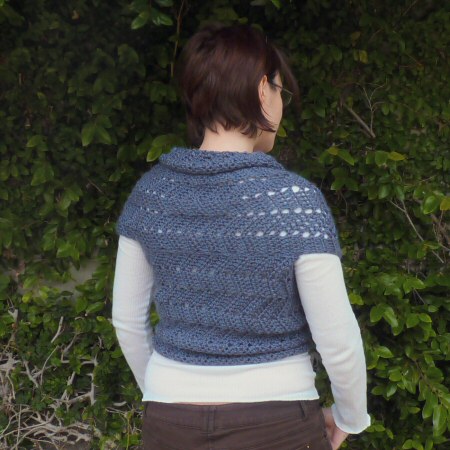 I hope you enjoy this pattern. Please leave me a comment below if you do, and consider leaving me a donation. Thanks!

More PlanetJune Accessories patterns
If you've enjoyed this post, you might also like my PlanetJune Accessories crochet patterns: they all include stitch diagrams and clear written explanations so you can easily crochet elegant wearable accessories for yourself and to give as beautiful gifts. Here's a taster of the range:

We're also having a PlanetJune Accessory CAL on Ravelry throughout November, and you're very welcome to join in!